Have you been to
The Daily Digi
today? If not, go
here
and check it out!
I'm really excited and honored to be a part of The Daily Digi's Digi Files #19 this month!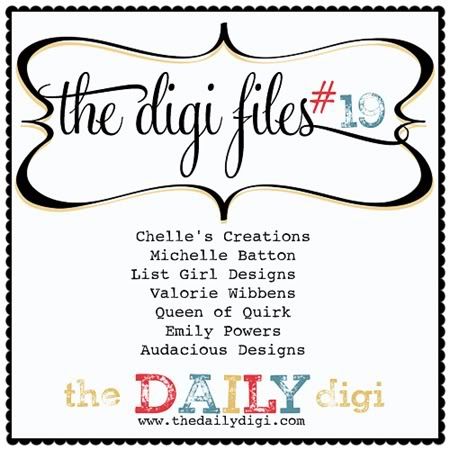 (image taken from The Daily Digi site)
And look at the other designers in the Digi Files with me! Many of my favorites... Queen of Quirk, Audacious Designs, and Em Powers. Waaaaaay awesome!
Here's a little bit about The Daily Digi if you are new to the site.
THE DAILY DIGI gives you back your time to create memories! We bring you the best in digital scrapbooking on a daily basis, so you don't have to spend time searching for it! We are an ad-free, affiliate-free site, so we are able to share our honest opinions with you about quality products, photo printers, programs, resources, and more! We work hard to find tutorials and other information to share with you, so you can spend less time online and more time creating memories with the ones you love! Each month we introduce our readers to quality digital designers through THE DIGI FILES, a collection of several products that retail for over $5 EACH for only $5 (that is over $35 of product for $5). The designers are chosen based on their quality products, they do not pay to contribute. THE DAILY DIGI is also leading the industry with the first dynamic informational based scrapbooking iPhone App!!
My designs inside The Digi Files #19 will be revealed later in the month. In the meantime, if you cannot wait, you can purchase it
here
! With all those awesome contributors, you can't go wrong! :)