I can't take credit for today's blog post title, because it's a direct quote from our friend Pete.
Pete and Todd set up a "skate date" today after work at Miramar Lake. Todd is starting to skate again and Pete had never been to Miramar Lake, so he wanted to check it out with his skates too. So we met up there after work so the two of them could skate and I could run.
They skated five miles and I ran 3.1 miles, in about the same amount of time. Well, I might have been a couple of minutes slower. I had gone to noon time Pilates class at my work gym, so my legs felt a little bit sore. I powered through it and tried to run faster, since I knew I was just going 3.1 miles. It was breezy at Miramar Lake. If I hadn't been running I might have been cold even. It's been only around 60 degrees in San Diego this past week. I ate a banana after work so I wouldn't starve.
Location: Miramar Lake
Distance: 3.10 miles
Time: 31:50
Avg pace/mile: 10:15 (yahoo!)
Calories: 302
After the skate date, we took Pete to Chile Peppers and introduced him to the
carnitas
there. In our opinion Chile Peppers has the best carnitas in San Diego. It's crispy salty meat! What else could be better, LOL. Pete was super-excited to try it out. He even said this was the reason he wanted to come on the skate date, ha ha. Then when we were ordering, he said he was "coo coo for carnitas". So I told him that I was stealing that for my blog post title.
Pete and Todd with their various carnitas incarnations.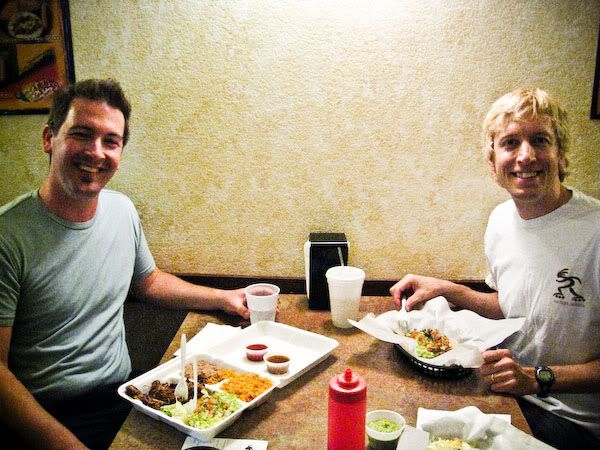 Todd and I. I always look especially lovely after a sweaty run and without makeup.
The carnitas passed Pete's coo coo test. Yay!
So I don't know if you've noticed, but I haven't scrapped a page in about two weeks. I just haven't felt like it. Which is okay. I just try to go with the ebb and flow of creativity. If I beat myself up over not scrapping, then this hobby becomes NOT fun and I wouldn't want to do it anymore. What brought me out of my scrapping hole?
This kit called "
Creator
" by Peppermint, who is guesting this month over at Scrapbook Graphics. It is a kit about creativity, imagination, and legos! What a great concept!
There is a coordinating
Creator Alpha
that is just the cutest lego alpha I've ever seen.
So I thought it was the perfect time to pull out those photos of when Peppermint and Tom came to visit last July and we went to Legoland together.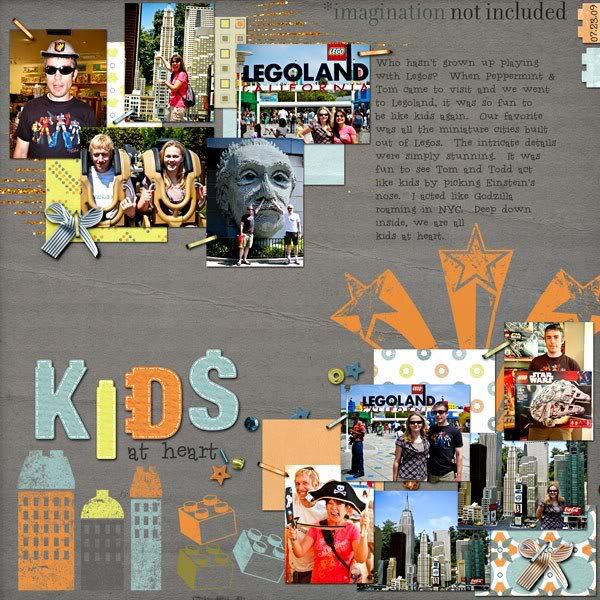 Click
here
for full credits.