Today is the last day of me being in my thirties. I thought I would take the opportunity to reflect on this past decade of my life.
In my thirties:
I became a finance manager for the first time, with people working for me. It was humbling and annoying.
I added to my collection of gray hairs.
I got braces for the first time, as an adult, for 21 months. Very good investment. I cringe to look at my photos of my crooked teeth from prior to the braces.
I cut my hair very short and regretted it the day after. Short layered hair + braces made me look terrible for a few months there. I think I only have one photo of myself during that "awkward period" of my life, when I was 32. :p
I ran my one and only 26.2 mile marathon in Honolulu, Hawaii, while raising over $3,200 for Team In Training (Leukemia & Lymphoma Society). I got a blister the size of a nickel on my heel halfway through the marathon, but managed to limp to the finish line. It took me over six hours, but I did it.
I ran the Rock N Roll Seattle Half Marathon in 2:40:34 - not too bad for a 39 year old. I wasn't even sore the day after.
I jumped out of an airplane at 13,000 feet in the air. Freefall was 50 seconds and about 7,000 feet at terminal velocity (120 mph). I made it and loved it at the time. Never again.
I welcomed two nephews into the world, who are now 6 and 8.
I survived the saddest ten months of my life, when my mom was diagnosed with cancer, went through surgery and treatment, and passed away.
I had my first panic attack as a result of the cumulative stress and anxiety I experienced for months. It has changed my life, because now I am prone to worry and anxiety, and have to actively try to manage it.
I discovered paper scrapbooking and digital scrapbooking, and now designing. I enjoy it most of the time.
I made friends on the internet. Gasp. One friend in particular, Peppermint, has changed my life. But there are many others who have impacted my life in the last two years and I'm immensely grateful.
I met Meera and AJ at our small group Bible study, and now they're one of my best friends.
I tried my hand at freelance writing, and was published in several publications.
I snowboarded and surfed on the same day.
I went to Hawaii five times, hitting all four of the major islands. Enjoyed it every time, except the 2006 trip to Maui, when my mom got very sick. One good thing about moving to San Diego is that it's much closer to Hawaii than Ohio. One bad thing about moving to San Diego is that Hawaii seems less exotic now.
I found my own voice for the first time. I cared less about what others thought of me. It's liberating.
I survived Todd's illness in 2005, when he was bedridden for two months and we didn't know when he would get better. I worked from home to take care of him. Being together 24/7 made our bond stronger. I'm so thankful he's healthy now.
I grew in my career.
I was one voucher away from getting my SAG (Screen Actors Guild) card. I was a background actor on several episodes of the TV show Veronica Mars. They called me to be the "featured extra" in an episode where I would have played a jury member in a trial and had good screen time, and told me they would give me a voucher for it. But the role ended up going to an Asian woman who looked much older than me. Oh well. Thus ended my short and not-so-illustrious acting career.
I survived a total kitchen and master bath remodel.
I realized I have so much yet to learn and grow.
My friend
Becky
gave me an "Honest Scrap" award a couple of days ago.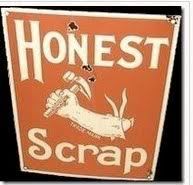 I'm going to consider that this blog post has fulfilled the 10 honest things about me, LOL. In fact, I doubled it! Becky also has a fun giveaway on her blog, related to me. Go
here
to check it out!
So now I pass this "Honest Scrap" award to:
Peppermint
Todd
Sherrie
Whit
Michelle