We did get up and run with our running club yesterday morning. We had heard it was going to rain later in the day, so running in the morning before the rain seemed perfect. Plus, we were running by the beach and that's my favorite!
The half marathon group ran five miles. We ran from Torrey Pines State Beach to Del Mar, then turned around back to Torrey Pines.
The beginning of the run was a big hill. I hate tackling hills at the beginning because I've hardly had time to warm up.
By the time I made it up the big hill (and that was .75 miles or more!), I was huffing and puffing already.
I made the mistake of following a pace group that was faster than my normal pace. I tried to keep up in the first half of the run (2.5 miles) and I felt so pooped out! I may have been dehydrated or something. I did not feel good at all.
View at Jake's Del Mar.
The run back I was struggling so much. My legs were tired and I was tired due to running too fast in the first half.
In the last mile, I ran past a small park with some pretty flowers.
A house with a gorgeous view of the ocean.
Finally, down the hill back to the parking lot! I couldn't be happier!
Todd's group ran six miles, so he arrived about five minutes after I finished.
Location: Torrey Pines / Del Mar
Distance: 5.04M
Time: 59:12
Avg time/mile: 11:44 (slow!)
Calories: 481 cal
I struggled a lot and didn't run well at all. It was one of those days where I couldn't say "I did it well", just that "I did it."
After the run, we sat on the grass across the street and listened to a seminar about injury prevention, and another short seminar given by Coach Dan about safety. As you probably read or heard this week in the news, 17 year old Chelsea King went missing when she went running on the trails near Lake Hodges. They found her body on Tuesday and they've already arrested and arraigned a suspect for her murder. Coach Dan talked about several safety precautions, including NOT running alone. He also said we can run with a whistle around our neck, and blow it loudly if something seems not right. He also demonstrated eye-gouging, nose-punching, ear-ripping, nut-kneeing, and biting. I thought the seminar was useful and I appreciated Coach Dan adding humor while demonstrating, even though we all knew it was a serious subject.
I finally met
Sara
in person. She's read my blog and I've read hers, and we both knew we're in the same running group, we've just never met. She recognized me and said hello after the run and seminar. It's nice to finally meet her!
A couple of hours after we finished running and went home, it started raining pretty steadily. We went to eat some Thai food and hit up Target for a couple of essentials. Then I read books and took naps on the couch the rest of the afternoon. It felt so luxurious and I loved it! Need to do that more often. In fact I stayed off my desktop computer all day yesterday.
Today we went to church in the morning. Then I paid a whole bunch of bills (really fun!) and designed some scrapbooking stuffs. Then it was dinner time already. The weekend went by entirely too fast!
Oh and I meant to blog this earlier and forgot. I made this page with all new BYOC items from
Designs by Lili
@ The Lilypad.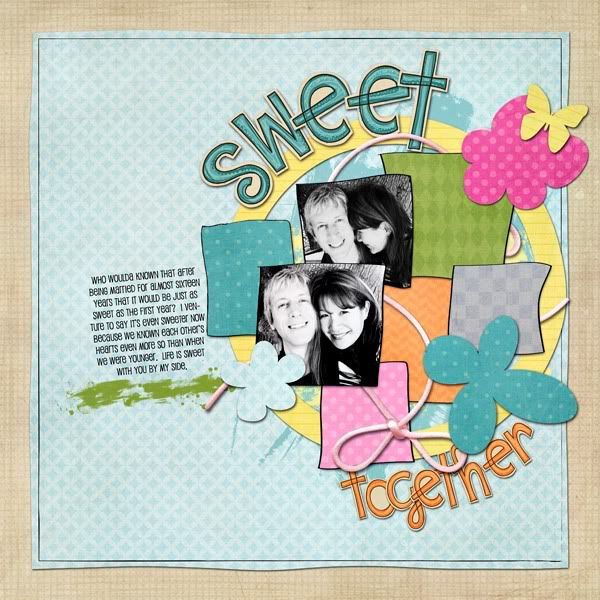 Credits:
Feeling Spring Papers
,
Paint It Up
,
Sweet Notes Alpha
, and
Merry Jingle
(string).