Remember to enter the contest in the below post for a chance to win a $10 coupon to One Little Bird (Peppermint's) store at Catscrap! You have until Sunday at 9pm Pacific time.
~~~~~~~~~~~~~~~~~~~~~~~
Last night Todd and I discussed the pros and cons of getting up early this morning to run with our West Coast Road Runners running club. The pros.. well, now that I think about it, there was only one: we would get our run in early, and not have to worry about it later in the day. We didn't want to fall behind the schedule already, the first week of the official season starting! The cons were many. Too cold. Too windy. Too rainy. Too early. But when the alarm went off this morning, we both did get out of bed. We even put our running clothes on, albeit more layers than usual. And laced our shoes on. Despite the fact that it was sprinkling outside, and the roads were wet, and it was cold by San Diego standards. Because we're just SO committed! Well, not really, but we went anyways! :p
The crowd was pretty big today, due to the fact it's the first training run of the season. All those bright-eyed, bushy-tailed newbies don't know what they're in for yet, ha ha!
Here's coach Amy and some of the runners in the Catalina (my) group, going over some instructions before we headed out.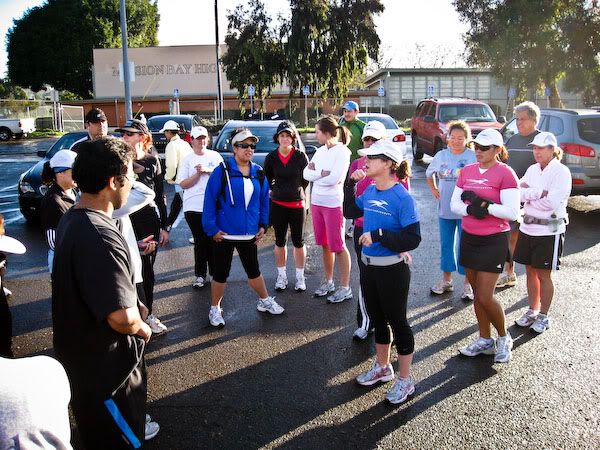 The pavement was wet.
(And boy do my thighs look really big from this angle, LOL.)
It was actually a rather nice four mile run, I have to admit. I had to jump over some puddles and stuff, but my shoes stayed pretty dry and it was not uncomfortable at all.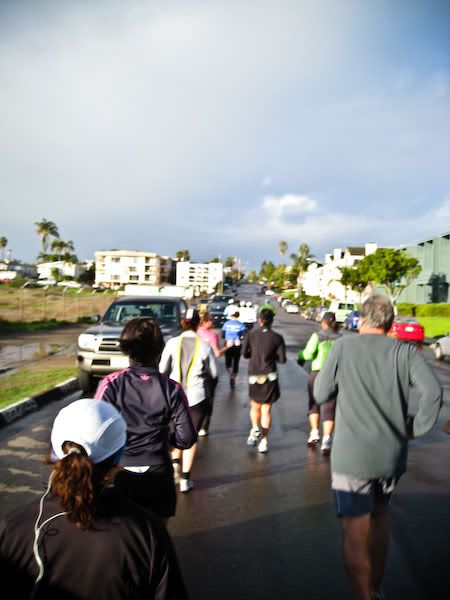 I saw some really cool scenery, such as the skyline of San Diego with Mission Bay in between.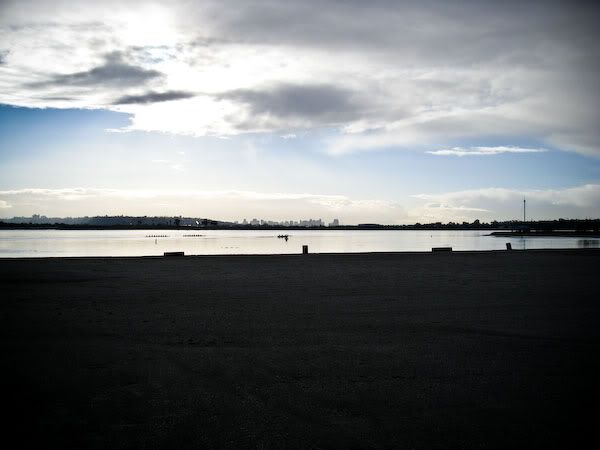 And a rowing crew practicing on the bay.
Right before the 2-mile turnaround, I also saw this cute guy running towards me. I got my camera out kind of late, so the picture was a little blurry.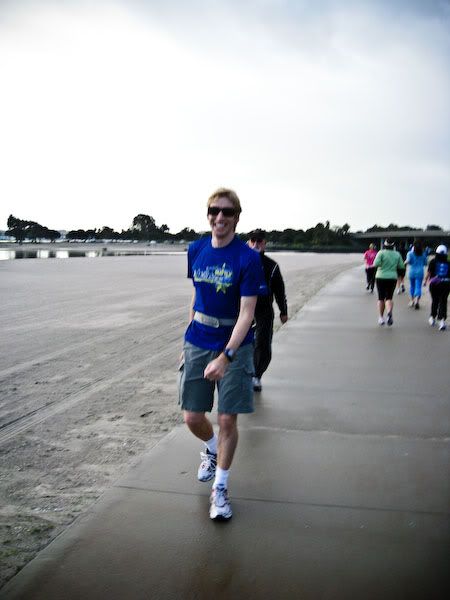 Todd with Robert, Cassey, and some other folks from his group after the run.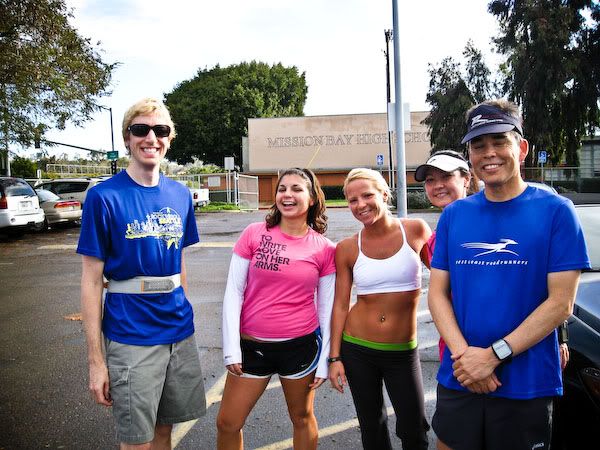 I felt good during and after the run. I think I would rather run in slightly cold weather than warm weather. When it's cool outside, it feels good when my body and muscles have warmed up during the run. I didn't make the best time today, but I'm totally okay with that, because I made it out there and that's what's important.
Distance: 4.05 miles
Time: 45:25
Avg time/mile: 11:13
Calories: 404
I've gotten some blog comments and emails from my friends who have said that they miss me doing P365. To tell the truth, I do miss having my life documented every day. What I don't miss is the feeling that I HAVE to process photos and blog every day. I have actually taken photos on most days this year. Old habits die hard I guess. And I'm not going anywhere... still blogging and sharing my life here regularly! :)
When P365 was coming to an end last year, Peppermint said to me, "You know you're going to be just as busy, because you'll find other things to do, and other activities to commit yourself to." Boy she knows me well. :) I have been designing more templates, so look for new stuffs soon, like in a couple of days. I also have something in the works that I can't disclose yet, but I'm hoping that will soon come to fruition. And I took an Adobe Illustrator class this month at JessicaSprague.com. It has been so fun to learn the program and play in it. Wanna see a couple of my assignments?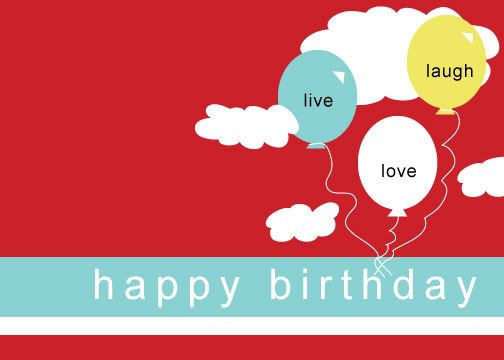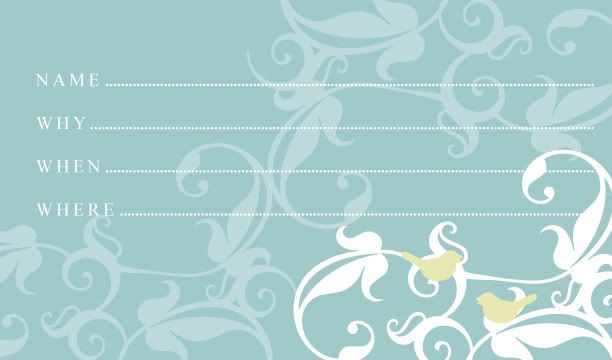 Nothing too fancy, but I'm excited to learn more and grow my skills. :)
Last but not least for today, it's this week's Digi Dare!
Come join us for
Digi Dare #164
, we are scrapping letters, advice column style! Please go to the
Dare site
for complete details, and remember to submit your layouts before Thursday 1/28 midnight Eastern time. We really appreciate the awesome participation from last week, and look forward to seeing your layouts for this one!
Here's my layout for the Dare.
Full credits
here
.
I used Designs by Lili's brand new kit,
Wish Upon A Star
, on sale this weekend for 20% off at The Lilypad! Is it cute?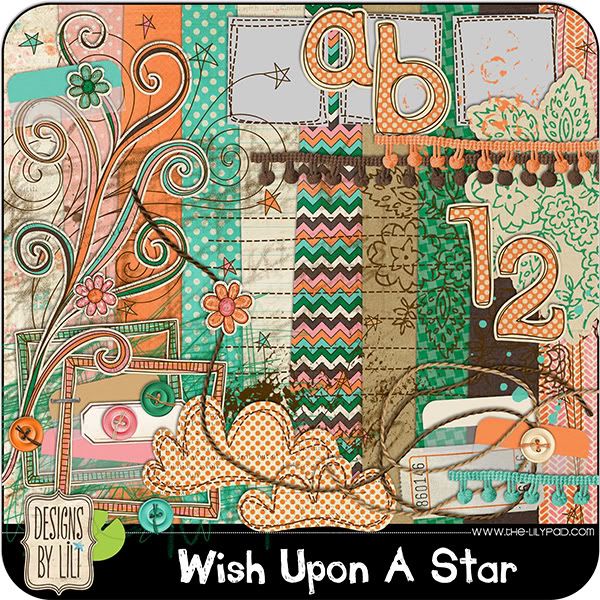 I have some fun plans for tonight. I'll be back with photos and stories tomorrow, plus the winner of the $10 coupon to Peppermint's store!