Both the Buckeyes and the Chargers had bye weeks this weekend. What are the chances of that happening? I feel so discombobulated without watching my teams! Last night Todd's friend from work,
Anne
, invited us over to their house for dinner and a movie. Anne and Gilbert are great company! They told great stories, and are such interesting people. We had a great time with them. They made us a classic southern dish called "
Chicken Bog
", with green beans. We brought some marinated carrots. After dinner we were treated to Gilbert's Pineapple Upside Down Cake, which was delicious. Then we watched "
Lars and the Real Gir
l". It was definitely interesting and I've never seen anything like it. There were funny moments and poignant moments. Definitely a thumbs-up if you're looking for a non-mainstream movie. Yesterday morning we went to exercise at Miramar Lake. Todd had gotten some new
Bont semi-race skates
and he was eager to use them again. He's only used them a couple of times so far, but he loves them. He's much faster with them than with his old Rollerblades, which were half the price of these semi-race skates. This brand of skates is what pro racers wear. I ran for 40 minutes, 20 of which were excruciating. It was HOT out! I couldn't believe how hot it was at 10:30 in the morning. After a couple of miles, I felt like it was 90 degrees without a breeze. I made it but I was much slower than a week ago, when I ran pretty fast (for me) and had a great quarter-mile split. Today I ordered some new luggage from LL Bean. Our old luggage that we had been using for a few years had finally had it. It was in such sad shape that we didn't think they would make it for our upcoming trip to Hawaii, so it was time for new luggage. I got them from LL Bean because if the luggage break, they'll send you replacement ones! I got the
Quickload Luggage Set in Mountain Red
.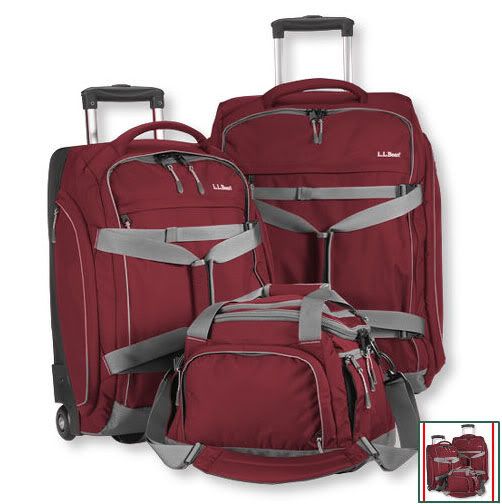 In Buckeye colors, even! On Friday Todd and I both took the day off to spend some time relaxing and having fun. We went to lunch at
Piatti
in La Jolla. Todd had the Cavatappi, which was home-made Italian sausage, spinach, and mushrooms roasted in roasted tomato sauce and parmesan. I had Rotolo, rolled pasta filled with wild mushrooms & ricotta spinach, in a porcini mushroom sauce. Both were delicious. The garlic balsamic vinegar & olive oil dip for the bread was especially delicious. We're big fans of it, from when we went to the Piatti in Mill Valley up in the Bay Area. After our lunch, we hung out at Barnes & Noble in Mira Mesa for a while before going to the Edwards Theater there to watch "
Beverly Hills Chihuahua
". Stop laughing, it was so cute! I even cried a little at the end, but don't tell anyone! In other news...
Lili
has asked me to be on her creative team! I of course accepted it. I love
her designs
! It's hard to believe, but Christmas kits are coming out already. I made my first Christmas page of the season using Lili and Emily Merritt's new collab kit
Once Upon A Christmas
.
Oh and some of you who read my blog from a reader, make sure you click through because I've made a new blog banner. It's full of "flairs"!