We got up around 7:15 AM local time. Ate some cereal and papaya that we got from the farmer's market for breakfast.
Then we got our stuff together to drive north to the beaches. Our guidebook had told us that local teenagers sometimes will break into tourist cars in beach parking lots and steal stuff, so it advised us to NOT leave anything valuable in the car, and to leave the car unlocked. So we decided to only take our Canon S2 IS with us, and not another camera. That way we could just take turns babysitting our stuff on the beach while the other one played in the water. We also brought our beach mats that we got cheap from Wal-Mart yesterday. Our condo's timeshare office provided us with free boogie boards to use for the day! I thought that was very nice of them. We decided to stop by Wal-Mart on the way to the beach, because Todd didn't bring any aqua shoes with him and the guidebook recommended having them for being in the ocean. I had my tevas so I didn't need any. So we went and picked up some aqua shoes for Todd. We drove the 30 miles north on Hwy 19 to
Hapuna Beach
. We had heard that this is one of the best beaches in the U.S., and has been featured on numerous beach lists and the Travel Channel. The drive made us realize how barren the west side of Big Island is, as we drove through miles andmiles of old volcanic flows from years past. we arrived at Hapuna Beach and there were still plenty of parking spaces left in the lot. We brought all our stuff with us to the beach, because as I said before, the parking lot can be unsecure. We took turns boogie-boarding in the waves. The water wasn't cold at all! In fact, it was probably close to 80 degrees. The waves could have been bigger, but who's complaining in warm paradise waters?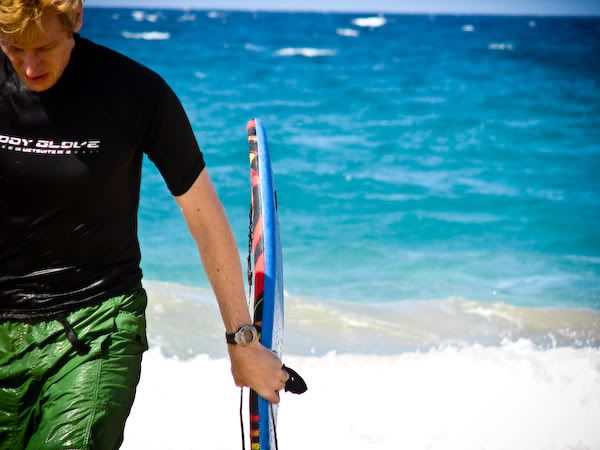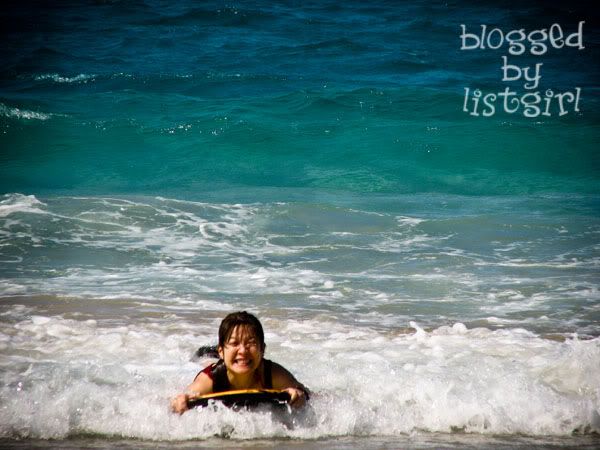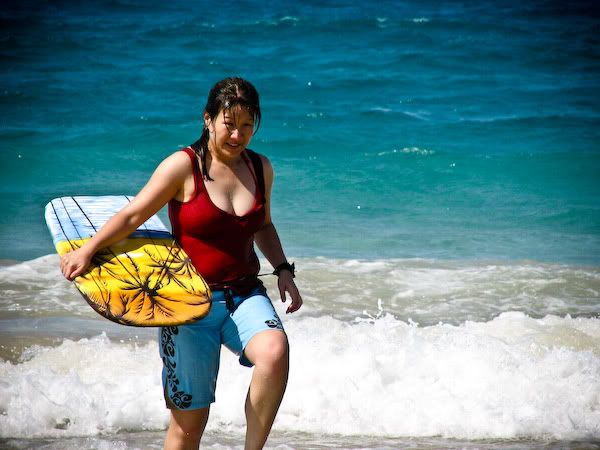 We were so glad we brought our tripod with us to Hawaii. We did get some fantastic couple photos of the two of us.
Some more shots of fabulous Hapuna Beach: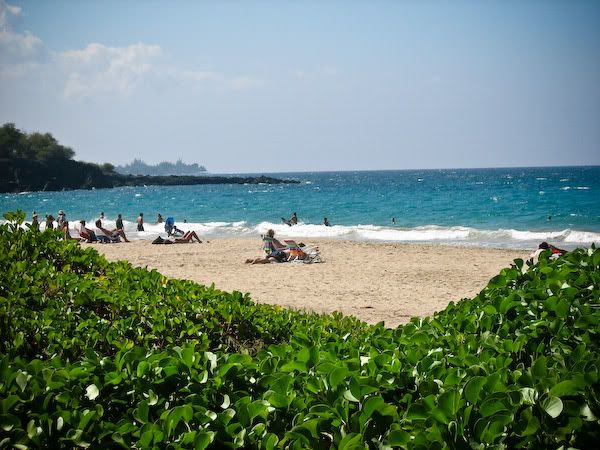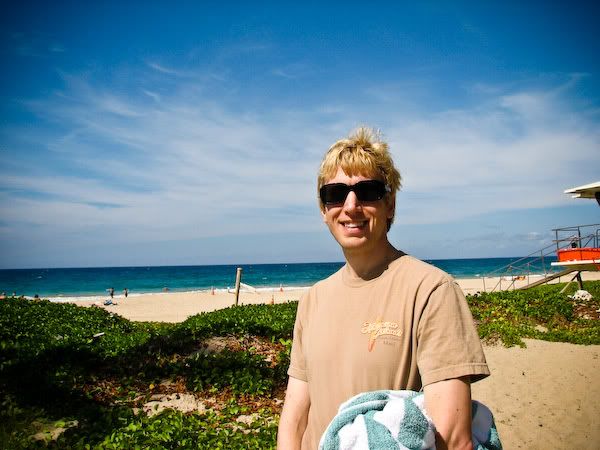 After cleaning ourselves up at Hapuna Beach, we drove 2 miles north to
Mauna Kea Beach
, another beautiful beach on the west side of Big Island. We had to go through the Mauna Kea Hotel to park. The hotel only alotts 30 parking spaces for public beach access. Luckily there were a couple of spaces left. Mauna Kea Beach was smaller than Hapuna Beach, but it was BEAUTIFUL!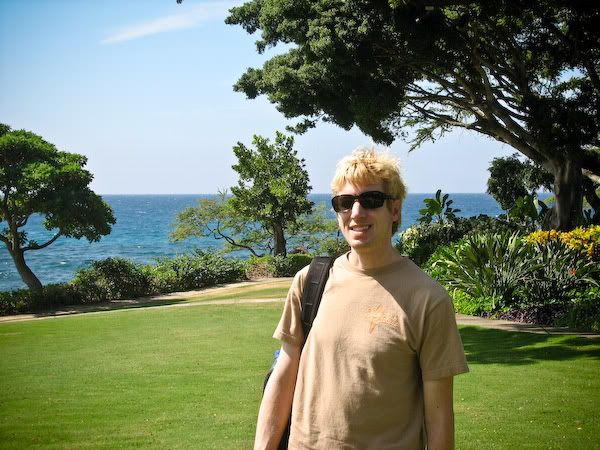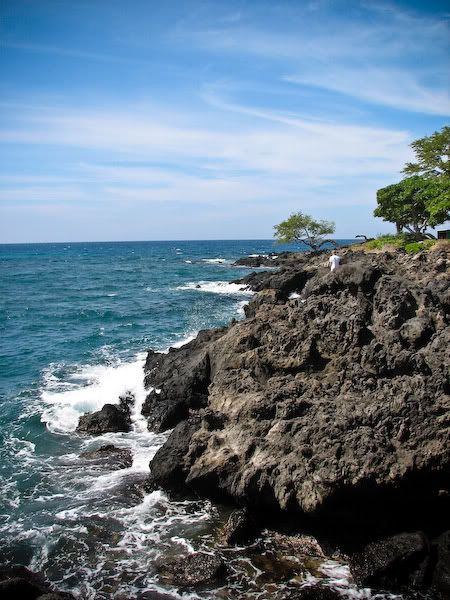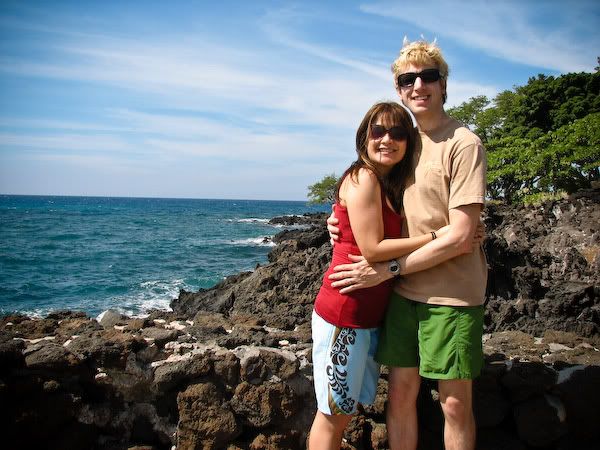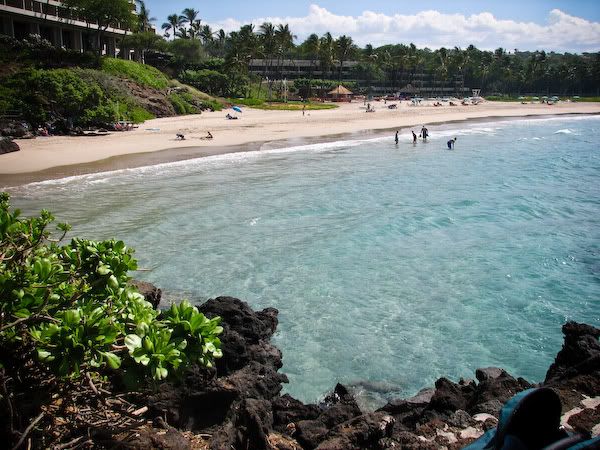 After a brief stay at the beach, we changed out of our still-wet bathing suits in our car, in the parking lot. A big towel is a bonus for this endeavor! Then we drove to the King Kamehameha Shopping Center at the Hilton Waikoloa Resort and had lunch at
Merriman's Mediterranean Market Cafe
. Todd had a marinara meatball sandwich, and I had a fish sandwich. We shared a basket of fries, and boy were they fabulous! Perfectly cut and fried, with some homemade ketchup and dijon aiole sauce for dipping. They were even better dipped in the balsamic vinegar provided at the table. After our beach adventures, we went back to the condo to rest. I was tired! We took showers and watched Monday Night Football (Browns vs Bills), which started at 3:30 PM! We had some microwave popcorn, maui potato chips, & coke. Yum! At halftime, we left for the Kona Brewing Company, because we had heard there was great pizza there. When we got there, we were sad to find out there were NO TV's there! We decided we couldn't bear to miss the rest of the game, since Todd is a Brown's fan and we actually REARRANGED our Mauna Kea Summit Tour from today to tomorrow so that we could watch Monday Night Football. So we decided to go to
Drysdale Two
(owned by Don Drysdale, the awesome late Hall of Fame pitcher for the LA Dodgers) in Keauhou Shopping Center.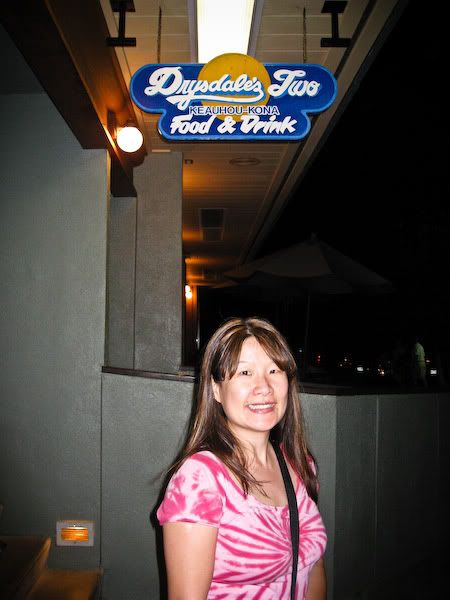 Annie & Fred had told us about Drysdale's fabulous fried calamari, so that's what I got. The cocktail sauce was fabulous!
Todd got fish & chips, with the fish being Ono.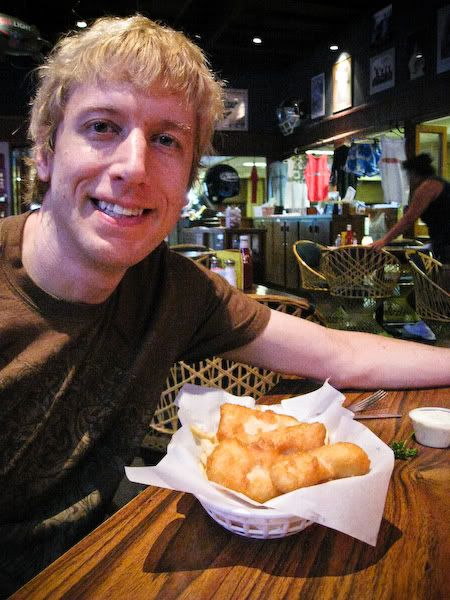 We got front-row seats to HD Monday Night Football! The Browns beat the Bills 29-27, because the Bills missed a last minute field goal! After the game, we went home and relaxed. We watched "Dancing With the Stars", uploaded our photos to Todd's computer, and surfed the internet a little bit. Another great day in paradise!