We woke up around 6:45 AM local time in Hawaii. (Hawaii is two hours behind Pacific Time.) We looked out from our lanai (balcony) and this was the view we saw: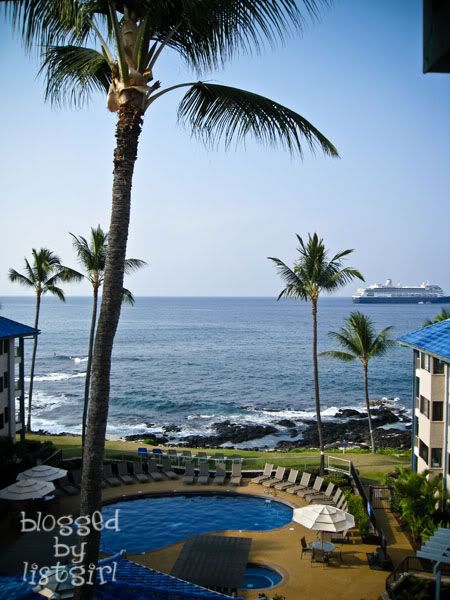 We had heard from our next door neighbors Fred & Annie that
Island Lava Java
was a good place to go get Kona coffee, plus our
guide book
liked it as well, so we walked half a mile from our condo to Lava Java for breakfast. (By the way, we love all the Hawaii guidebooks by Andrew Doughty, so if you're going to the Hawaiian islands, we highly recommend his books.)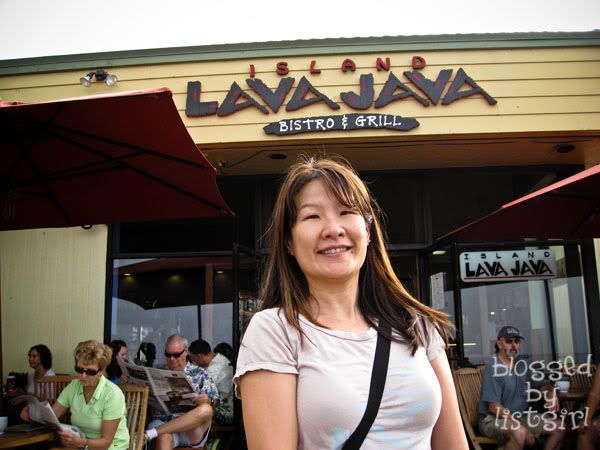 Todd had a ginormous cinnamon bun with lots of syrup and frosting on it. It really was HUGE! It was as big as your face. He also got a chai latte. I got a ham, egg, & cheddar on English muffin breakfast sandwich, and a 12 oz. cup of medium brew 100% Kona coffee. The coffee wasn't bitter at all, and was deliciously aromatic. Everything was so freshly made and tasted very good. I don't know why it didn't occur to us to take some photos of this first meal on the island, but we didn't. So this is one of the few meals without food photos! :( After breakfast, we walked down Alii Drive to the local farmers market. There were lots and lots of local fresh fruits & produce.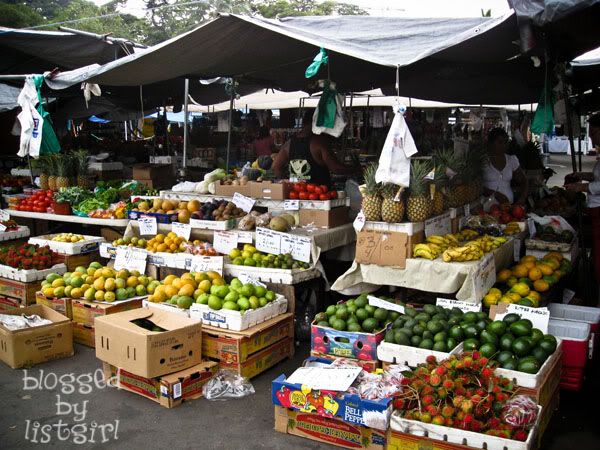 We got 5 strawberry papayas for $2, 4 guavas for $1, and one large lemon for 50 cents. After the farmers market, we walked back to
ABC Store
and bought a bottle of water, then walked back to the condo. We hung out at the condo for a little bit, watching Sunday NFL football. Todd took a shower while I figured out how to pilfer a nearby unsecured wireless internet connection. Score! Here are some photos of our condo: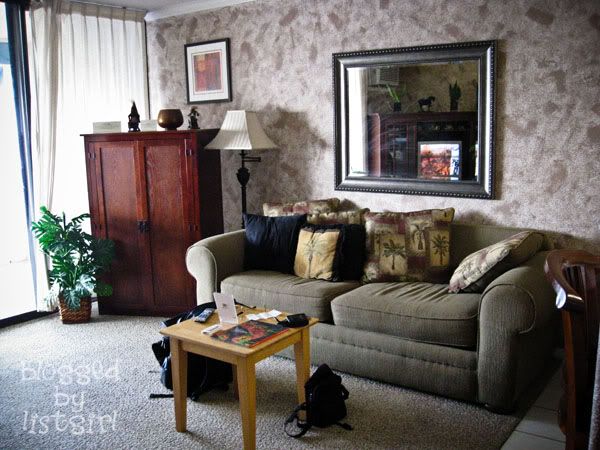 It actually had a full kitchen, and it was fully stocked with cookware and utensils. Way convenient! We drove south, with the intention of going to Ke'ei Cafe for lunch, but they were closed on Sunday. We ended up eating at the
Aloha Theater Cafe
.
No food photos again! This is the last time, I swear! I had a calamari steak sandwich with french fries, and Todd had blackened fish sandwich with garlic red potatoes. It was pretty good, but not awesome. After lunch we went to the Wal-Mart on Henry Street and got milk, cereal, microwave popcorn, Maui Salt & Vinegar potato chips, lots of water and Coke, and a Fuji disposable underwater camera. Sunday was the last day of the annual
Kona Coffee Cultural Festival
.
They had a Kona coffee recipe contest at the Sheraton Keauhou, so off we went to check it out. We had to pay $3 for a festival button so we could get in.
Unfortunately, most of the food were not for public sampling, but for judge sampling. We were very disappointed about that! We got some coffee, some chocolate, some honey samples, and
Chef Paul
's chicken taco with his own special sauce, and refried beans. There was even coffee beer from Pipeline. But all in all, the recipe contest was kinda boring. So we went back to the condo and watched football and napped. In the evening, we walked down Alii Drive to check out a free concert at the Kona Inn, which was a part of the Kona Coffee Cultural Festival. But guess what? You have to have your $3 admission button to get in, and we left ours at the condo! So no luck for us, we only saw the musicians from afar: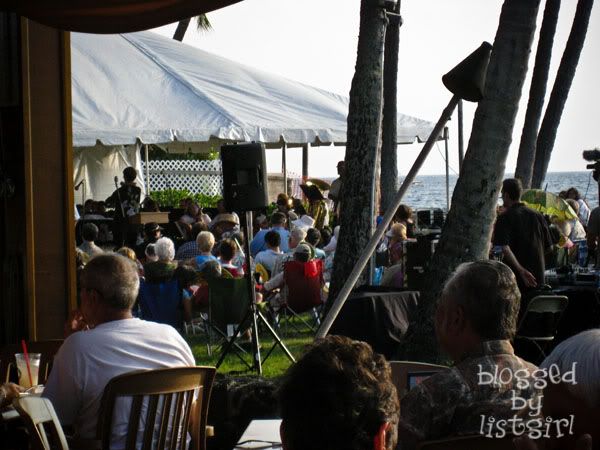 We walked further down Alii Drive and checked out the sights. The
Mokuaikaua Church
is Hawaii's first church, established in 1820.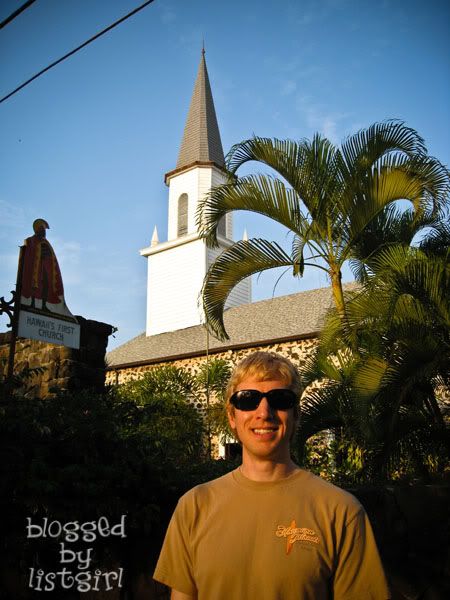 Alii Drive is right on the ocean and very scenic, especially at dusk.
There was some sort of Sunday street fair going on: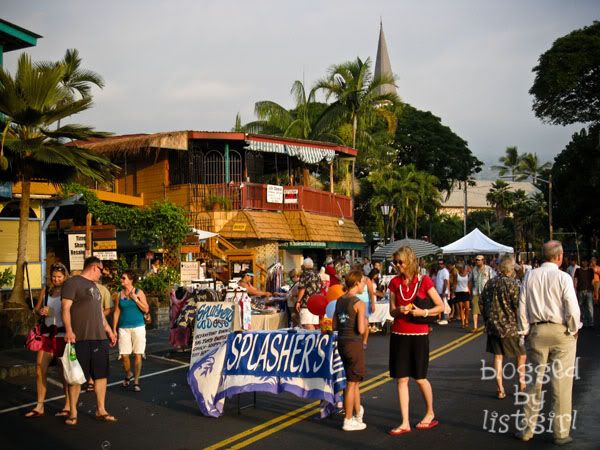 I was excited to find this spot: the official swim start and run finish of the famous
Ironman Triathlon World Championships
.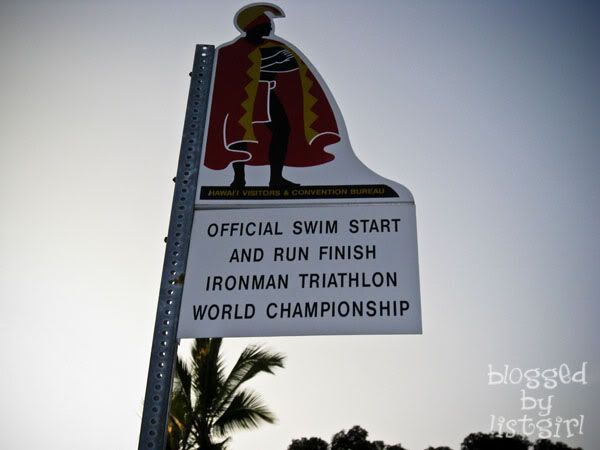 This tree was really large, way bigger than what it seems in the picture. There were a TON of birds in it too, making all kinds of ruckus. I actually took a video of it because it was so loud!
The sun was setting at the Kailua Pier. Such a pretty scene.
Time for dinner! We walked back towards our condo and stopped at
Lulu's
to eat. They had Sunday night football on (Cowboys vs Redskins):
The sunset was good, but the power lines got in the way of the view.
I had the house salad with shrimp:
Todd had buffalo chicken fingers:
A parting shot of Lulu's:
We went home and ate some super-sweet strawberry papaya and watched a CNBC documentary about Wal-Mart. Todd brought Kung Fu Panda from Netflix, and we had a DVD player at the condo, so we tried watching it. I kept falling asleep though, so I didn't see much of it. It was a great first day of vacation and relaxation on The Big Island! I'll be continuing with the trip report in the next few days as I get the photos edited and ready to post.