Woke up around 6 AM because Todd's work Blackberry was buzzing. Boo! He went to shut it off. Slept for another hour or so. Then we got up b/c we wanted to walk to Island Lava Java to get coffee, before it got swarmed with the morning crowd. We ate some cereal and fresh strawberry papaya at the condo, then trekked off to Island Lava Java. I got a 12 oz medium roast 100% Kona Coffee. Todd got a 12 oz. latte. Both were very good. We walked around that shopping center a little, then walked home. We finished watching "Kung Fu Panda" the rest of the morning. Then we walked back to the Sunset Shopping Center and went to "U-Top-It" for lunch.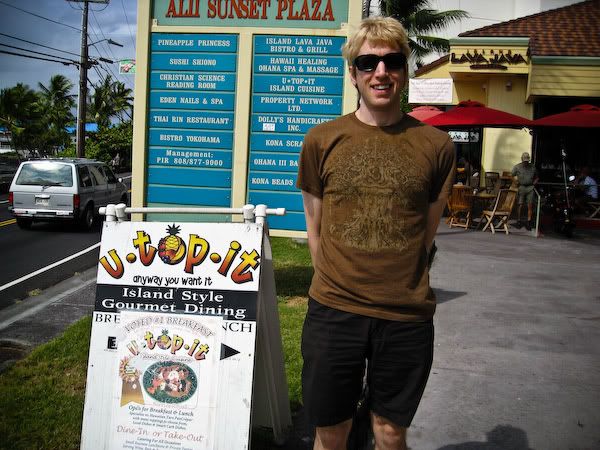 It's like, this Hawaiian crepe place where you pick the toppings. I had the "Pizzaro", which was a crepe with mozzerella cheese, salami, pepperoni, yellow peppers.
It was okay. It was far from being delicious. Todd had a club sandwich with french fries.
We had Tropical Dreams Lychee Sorbet for dessert. Then we walked home. Around 1:15 PM we left for
Hawaii Forest & Trai
l Headquarters to meet up for our
Mauna Kea Summit Adventure
. We signed in, went to the restroom, and waited for others on our tour to show up. The employee there told us that the rest of the trip would be porta-potties, except for the Mauna Kea visitor center at 9,000 feet, so we went to the restroom. I hate porta-potties! Other couples showed up: Mark & Camille from Brooklyn, Sonya and her friend Janet, they're from Seattle and Portland. Jessie and his wife from Orlando, and John & Greg from Washington State. Our tour guide was Buck. He was very nice and funny, and knowledgeable. He's been doing this for 12.5 years. He's lived on the Big Island for 15 years. He actually spent his high school years in San Diego, in Imperial Beach. We went north on Hwy 19, then 190. Along the way we stopped at sites of some previous volcanic flows.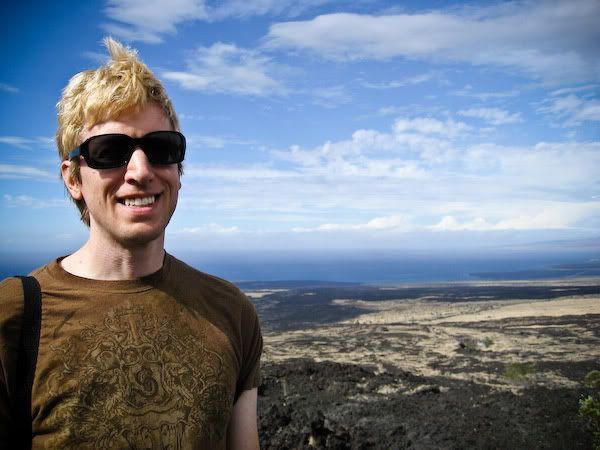 Buck got very animated and excited when talking about and explaining volcanic flows to us.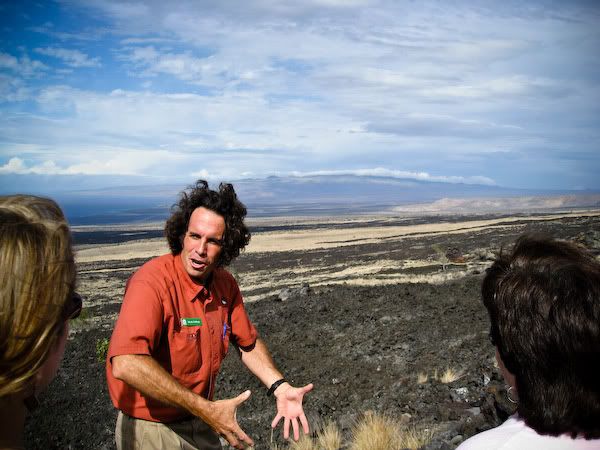 Some more photos of volcanic flows along the way: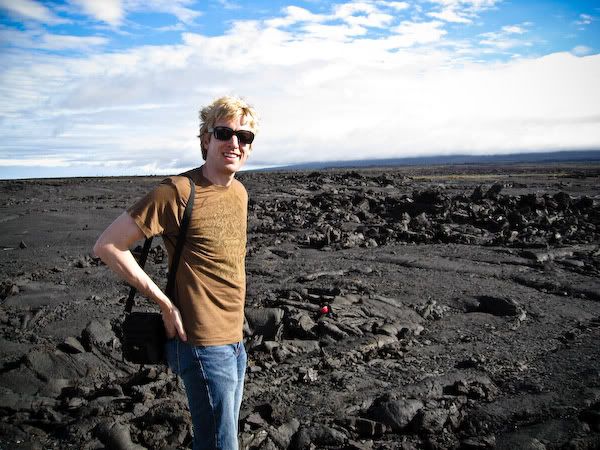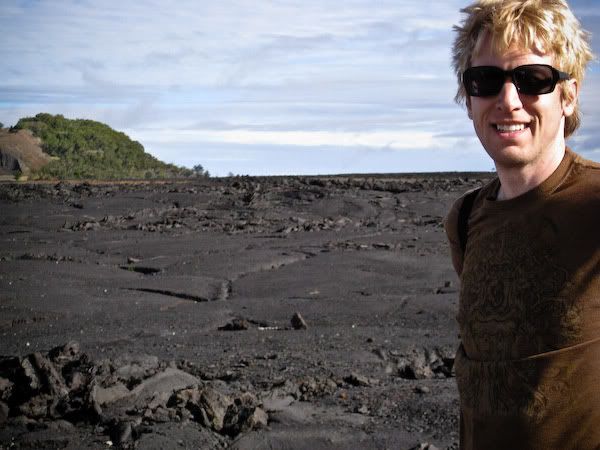 Our van: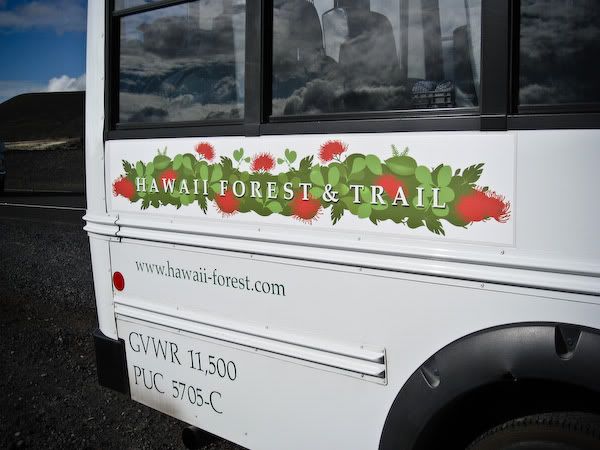 A couple of volcanic cinder cones: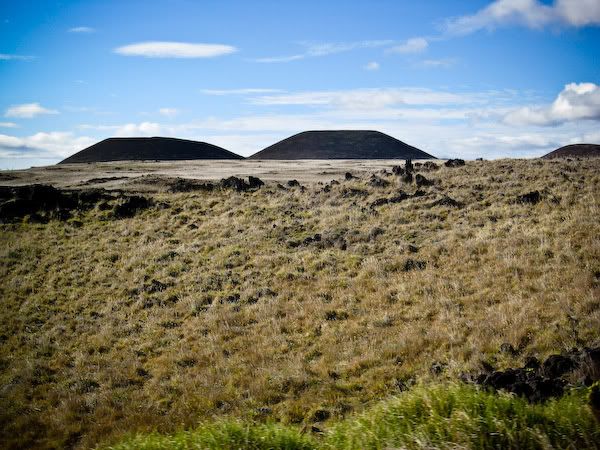 Then
Saddle Road
. Saddle Road was very bumpy (famously bumpy!), no wonder the car rental agencies don't want you to drive on it! We saw wild turkeys, horses, cows, and sheeps. For every 1,000 feet we climbed, the temperature dropped 3.5 degrees and the air has 3% less oxygen. It got colder and colder as we drove up. Buck told us stories of yester-year, plus information about the native fauna & wildlife. He told us how one of the paniolos (Hawaiian cowboy), Ikua Purdy, competed and won the
1908

Frontier Days celebration in Cheyenne, Wyoming
, thus winning respect for paniolos in the mainland cowboy culture. We stopped at
Huma'ula
(6,697 feet elevation) for an outside picnic dinner. Huma'ula is an
old sheep station
that belonged to
Parker Ranch
, a cattle ranch near the town of Waimea that still maintains 200,000 heads of cattle.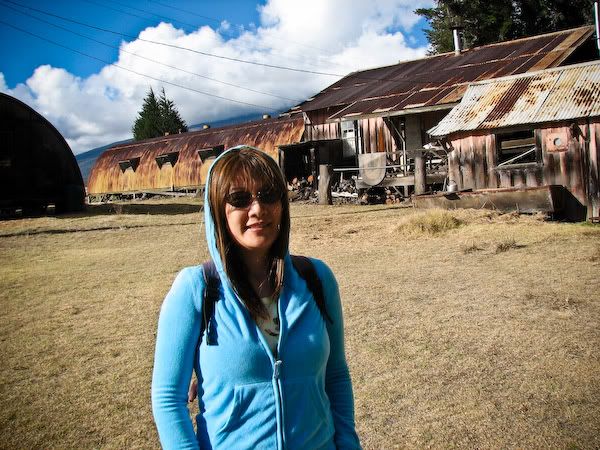 Here's a sight that you won't hardly ever see: me in front of a porta-potty! I hate them, but necessity dictated that I use this one, so I begrudgingly did. Check out the sign on the porta-potty!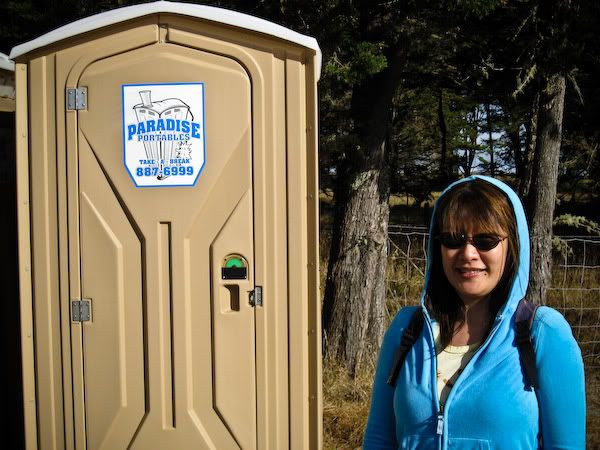 We walked around and checked out the old sheep farm while Buck set up dinner in a tent. We got hot minestrone soup: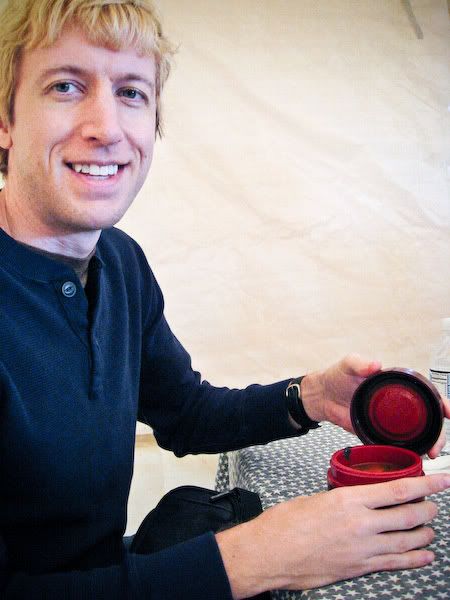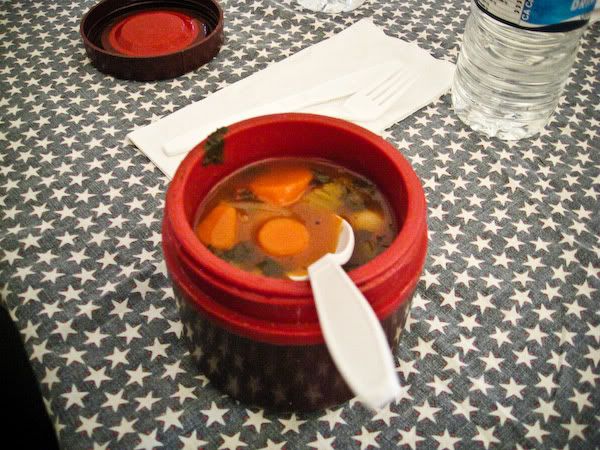 Todd got herb & macadamia nut pesto on fish, wild rice, carrots, and zuchinini: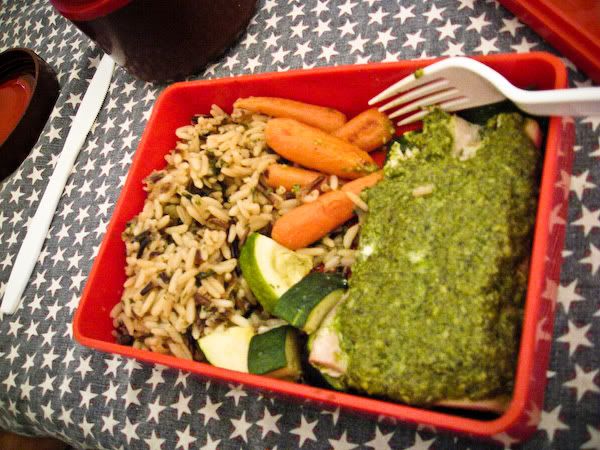 I got the same thing except I got free-range chicken with mango salsa on it: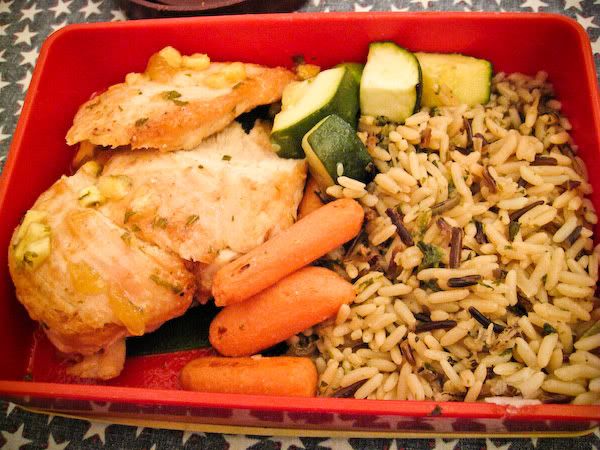 It was very good. After dinner Buck gave us our big parkas to put on, because it only got colder as we went further up Mauna Kea. At 9,300 feet, we saw the
Mauna Kea Visitor Information Station
and got out for some photos.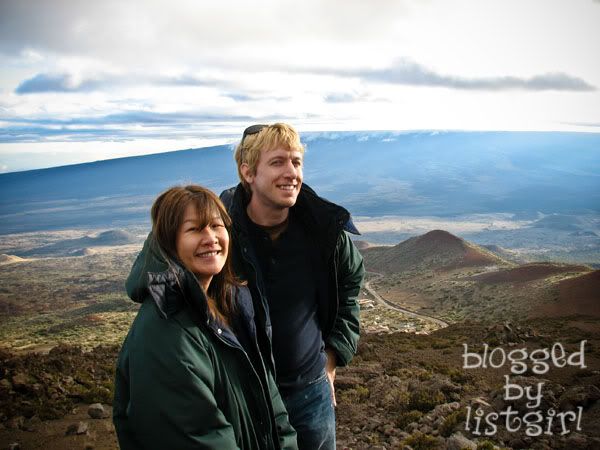 Finally got to the summit of Mauna Kea around 10 minutes before sunset. The summit is at 13,796 feet. We zipped up our parkas, pulled up the hood, and even put on gloves, but it was STILL so cold! The view was spectacular above the clouds! Looked like we were on the moon:
Some radio telescopes:
So many countries/organizations have telescopes up at the summit of Mauna Kea. There are
13 telescopes in total
.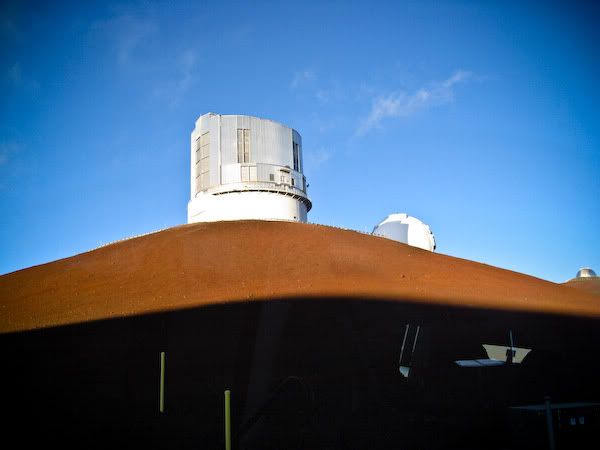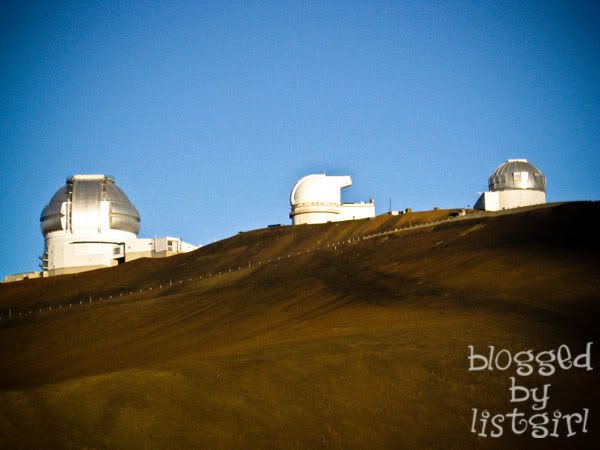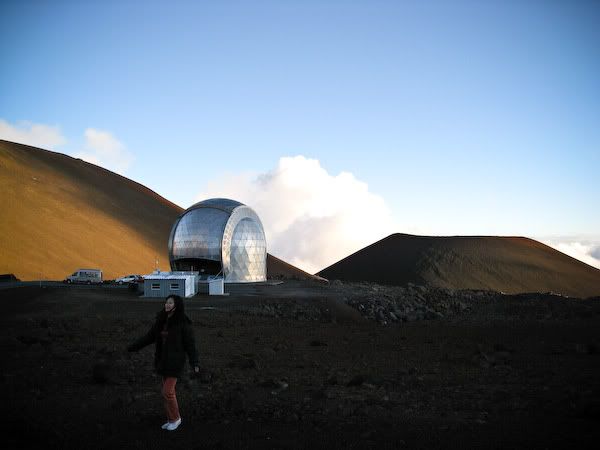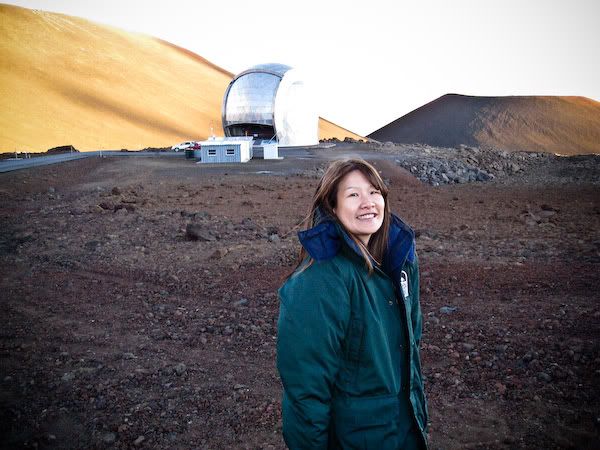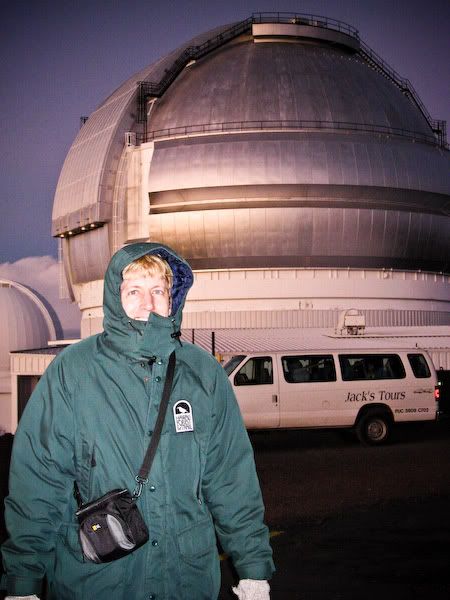 It was a perfect place for observatories, because it was very clear there due to the dryness and high altitude. We were so cold, but watching the sun set was very cool. The views above the clouds were simply spectacular!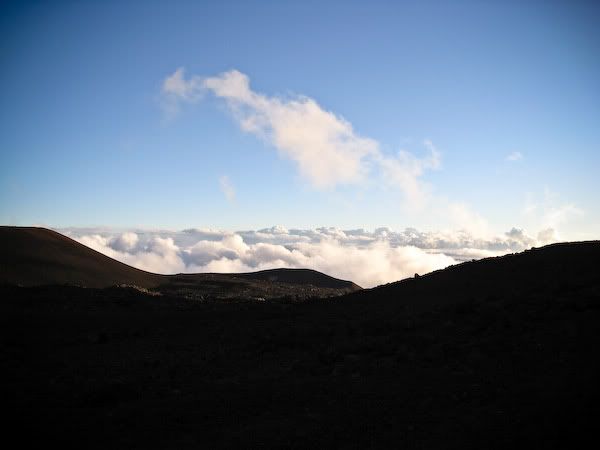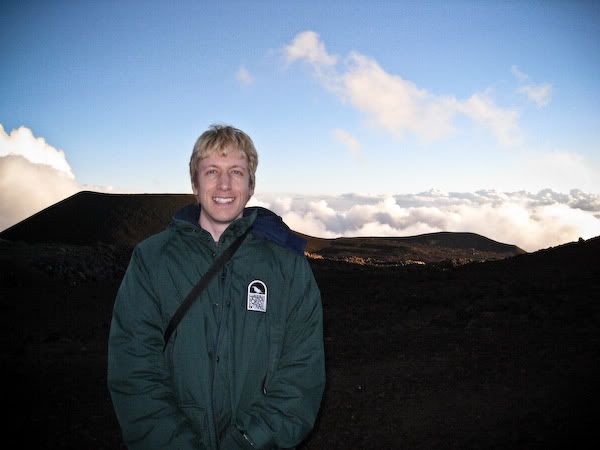 Todd went to the porta-potty at the summit, and it was COLD!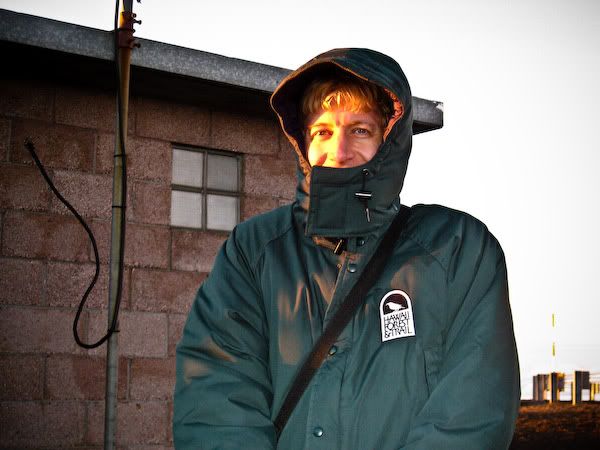 We saw some people drive up in their SUV, and they came out in shorts! I can't imagine how cold that would be. Check out the contrast between me and them.
I felt like a penguin as I waddled around. Even operating the camera was hard, since I had huge gloves on, plus my fingers were still so frozen that they hurt.
But I did capture the sunset: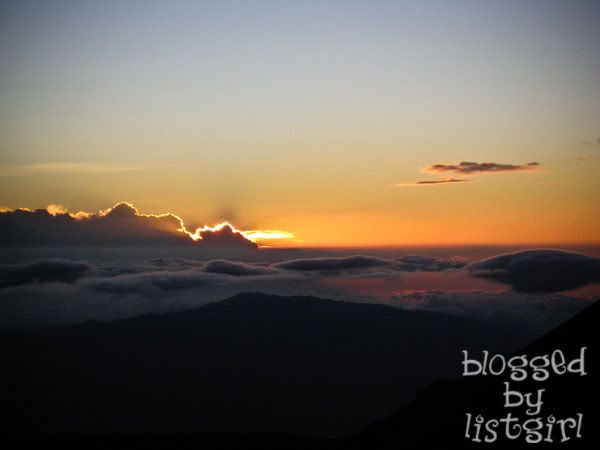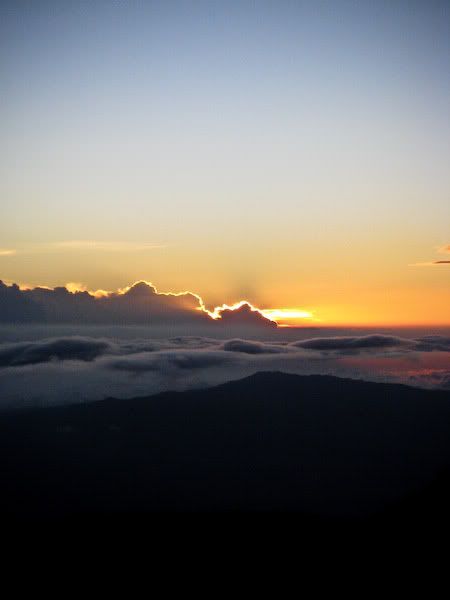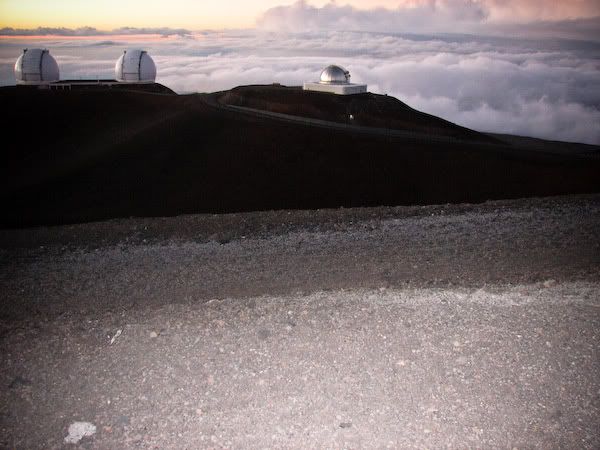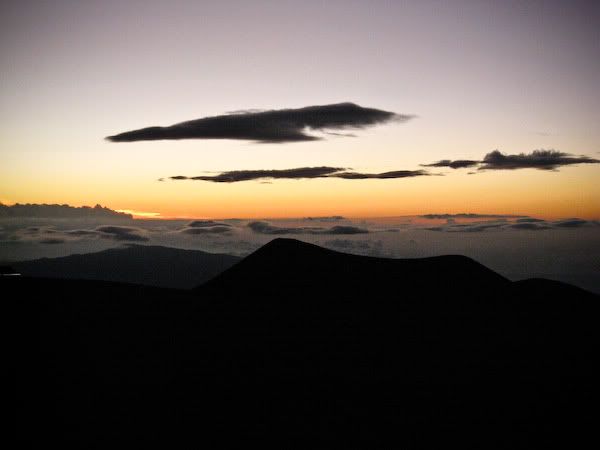 A parting shot of a popsicle Todd:
A few minutes after sunset, we got back into the van and drove back down to the visitor center at 9,300 feet. There were real bathrooms there, so the line was pretty long but it was worth it to go! Buck set up his telescope, and gave us macadamia nut cherry almond oatmeal cookies, and hot chocolate, which we welcomed with more than our frozen open arms. We gobbled those down, and Buck commenced our astronomy lesson. The sky was so clear! I had never seen so many stars in my life. The whole sky was filled with stars, plus we could actually see the milky way! Buck pointed out various stars and constellations with his laser pointer, then he found them on this telescope (with GPS) and we took turns looking into it. We saw Venus, Jupiter, casiopia, polaris (northstar), a binary star, pleades, a bunch of the constellations including Pisces and Aquarius. I don't have photos, because obviously any flash photography would not have captured the stars, plus it would blind our eyes, which had grown accustomed to the very dark and lightlessness up there. Sometime during the astronomy lesson, I egged Todd on to go to the back of the van and get another cookie in the dark. So he went back and grabbed another cookie, feeling all sneaky. After a while, my hands and feet felt so cold that I didn't feel like it was so fun anymore. Thankfully, about 15 minutes later we packed into the van and started back. It took about 2 hours to get back to Kailua, the HF&T headquarters. We came home and were so pooped out!