This week at
The Digi Dares
we are scrapbooking about music! Do you have a special song that transports you back to a specific time and place? Does it invoke memories and feelings for you?
For me, the song "Our House" by Crosby Stills & Nash always gives me a warm fuzzy feeling about my home and my little family. In fact, the "two cats in the yard" part totally makes me want to go adopt a brother for
Noodle
! :D
Here's my layout about the song and what it means to me.
Credits:
These Walls
&
These Walls Moving Day Add-On
by One Little Bird;
A Slice Of The Good Life
by Juliana Kneipp;
Wood Veneer Serif Alpha
by Digital Design Essentials; fonts are Just Another Hand and Blackout.
Play along with the Digi Dares this week to win some prizes from our sponsors and designers! You can
click over to the Digi Dares site
and read this week's dare in detail and submit your layout by linking it up in the comments section!
And this song totally reminded me of our big kitchen renovation in 2009! In fact, the total renovation started in April 2009, so it was exactly four years ago! It took three months and lots of headaches and not having a kitchen, but we've been using our new kitchen for four years now and we absolutely love it!
Here's the before photo of our old kitchen. Our house was built in the late 1980's, so there was the drop-down ceiling with flourescent lighting, tile counters with grout (yuck!), and old appliances.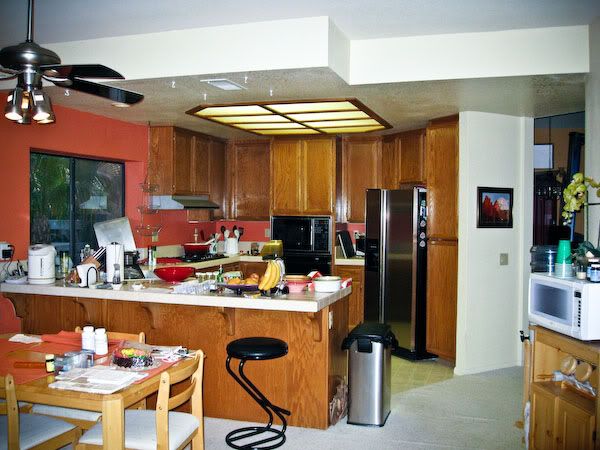 And here's the "after" photo. Three months later.
The entire kitchen was gutted. Even the drywalls were ripped out so that we could re-plumb all the water pipes and re-do all the electrical outlets. So how does this related to my Digi Dare layout? I made a kitchen renovation process video using the "Our House" song by Crosby Stills & Nash. Please excuse the small video. I had tried uploading to Youtube back in 2009 and they wouldn't let me do it because I didn't have permission to use the song. This is my own personal video and not a commercial video, so I don't have any problems just sharing it on my blog. Enjoy! :-)