I like the cartoon girl on the left sidebar, I think she resembles me pretty well. I have also created other avatars of myself. Maybe you can help me pick your favorite one. This one is my Yahoo avatar:
Of course, I'm tailgating at a football game! I like this one because the clothing style is very similar to my clothing style. Casual t-shirt and jeans and a little hooded sweater over the T. Photobucket.com now lets you create your own avatar and you can link to it from your blog or website. These are mine.

This is the small one.
Medium one.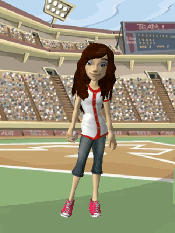 Animated one - listgirl getting ready to throw a fastball!

Listgirl at the beach in SD
Listgirl hanging out at the beach What do you think? Which one is most "me"???