Well, this post is gonna be a hodge-podge of stuff, so I didn't know how to title my post. :) Yesterday I woke up and uploaded my scrapbooking page for the day, and played the praise game at
DST
and
MSA
. Then Todd woke up and we chatted about what to do for the day. Stuff like what to eat, where and when to exercise, etc. I got frustrated because I kinda didn't want to plan out the day (which is so anti-me, I don't know what came over me). So finally Todd was frustrated too and said I'd been snippy for three days. I quickly realized that it was true, and apologized. I blame it on prolonged calorie-deprivation, even though I know it's not true. I've been keeping track of my food intake via
The Daily Plate
for a month now, but only losing at the most TWO measly pounds. Plus I've been so much better at exercising too, so what gives? While it's frustrating to see the lack of downward movement on the scales, I've lost weight before and I know I can do it again. So I did this layout for
Manda Bean
(I'm the August guest CT there) using her new kit
Let's Get Physical
, a collab with Heather Roselli.
Full credits can be seen
here
. So after breakfast, we headed over to the local high school track to run for 30 minutes. Man, it was hard-going at first. It felt like 90 degrees down there, even though I know it wasn't. The track and football field is sunken, with bleachers around it, so there was hardly a breeze. I ran 2.5 miles and that was all I could take. Then we went home and showered and headed to lunch at Nozomi, my favorite Japanese restaurant. I had the Hawaiian Roll there, with cucumber, krab meat, shrimp tempura inside the roll, and spicy tuna on top of the roll. With the orange spicy sauce, it was delicious. Of course, it was not low-cal due to the fried and sauce stuffs. But I tried not to eat all the rice, at least. I was happy to finally go back there to eat! After that, it was hot, so we went to Linens N Things and Borders for some A/C refuge. We had some 20% off coupons for LNT, so we finally purchased our long-coveted
Waffle Maker
. We used it this morning and made two kinds: regular (which we topped with ready-whip and fresh blueberries), and one where we mixed in grounded and sweetened red beans. BOTH were delicious!
Now who wouldn't want to wake up with your husband preparing yummy belgian waffles for you??! So then, at Borders (continuing on from yesterday), we got some tea, and a piece of carrot cake. We LOVE the carrot cake at Borders, cuz it's made with real cream cheese. Then I came home and found it on The Daily Plate that each slice is over 800 calories! :( Good thing we only shared one! I picked up two magazines while at Borders, because they inspired me in different ways. First, this.
It's the August 2008 issue of
Runners World
. Sorry photo's so small, it's the best I can pilfer off the internet. But I was totally intrigued because that woman just looks so FAB running in that running skirt! I've been in such a rut fashion-wise in running. I've been basically wearing the same running clothes for 6 years. Now the new rage in women's running gear are these
running skirts
! I big puffy *heart* them and wanna go try one on! Plus, this issue has a half-marathon special, which I hope to achieve within the next 8 months. I've run a whole marathon (26.2 miles) before, but that was a long time ago (2000 Honolulu Marathon), so I need to start from scratch training-wise again. So, picture me looking FAB, crossing the finish line in a running skirt! :: big smiles :: Now that's motivation! This was exactly the motivation that I was looking for, to get fit and thin again. The other magazine I got was the current issue of the
San Diego Magazine
, which is their annual
"Best Of" issue
. We've found many a restaurant and cool hangout based on this annual issue, so I had to pick this one up.
Then last night, we watched the movie
"21"
because it came in Netflix. It was okay, nothing to write home about. The character development was a little bit lacking. The concept of counting cards in black jack in intriguing, but not my kind of thing.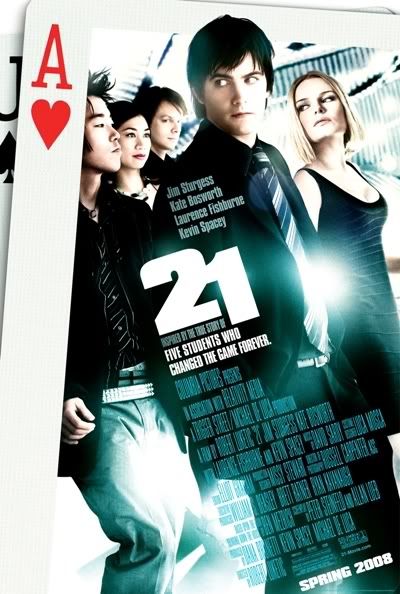 Kevin Spacey was a non-redeeming jerk, so he got what he deserved at the end. There was no character development with him either. Lastly for today... I am a big proponent of public schools teaching about personal finance and food nutrition. I feel both topics are essential life skills that don't get taught, so the general public is severely uninformed. This was confirmed by
this article
from the Freakonomics blog that Todd sent me the other day. Personal finance should not be a mystery. The basics are easy to acquire, and the benefits to each individual is astounding. Just the simple concepts of compounding interest, diversification, inflation, and time value of money goes a long ways in helping people make the right choices about money. I'm passionate about people educating themselves on such matters. People just don't understand the importance of start saving young when it comes to the time value of money and compounding. The nutrition education is non-existent in our schools too. People aren't equipped with the knowledge they need to make the right eating choices. Look at the rate of obesity climbing steadily at a staggering rate. We're fatter than ever before. :: Sigh :: I know it's not something I can change about everyone, but I'm happy to be taking steps to educate myself about the calorie content of the foods I eat so that I can make better choices for myself.