Wow, I've been meaning to post about our week in San Francisco at the end of June. I'm finally getting around to it now, LOL. At the end of June, Todd went to a training class in Mill Valley, CA for a few days, and I decided to tag along. We flew there Tuesday (6/24) evening. We promptly got lost from the SF airport to the hotel in Mill Valley! The directions from the
hotel website
were not very clear, so we took the long way there and got lost a couple of times. It was 9 PM by the time we got there, and we were starving. Good thing there was an In-N-Out Burger down the street! Wednesday (6/25) morning we had the complimentary free breakfast at the hotel. It was one of the nicest free breakfasts I've had at a hotel. They had waffle makers, bagels, pastries, lots of fresh fruit, hard-boil eggs, coffee, tea, juices, etc. Then Todd headed off to class while I worked virtual from the hotel with a great view.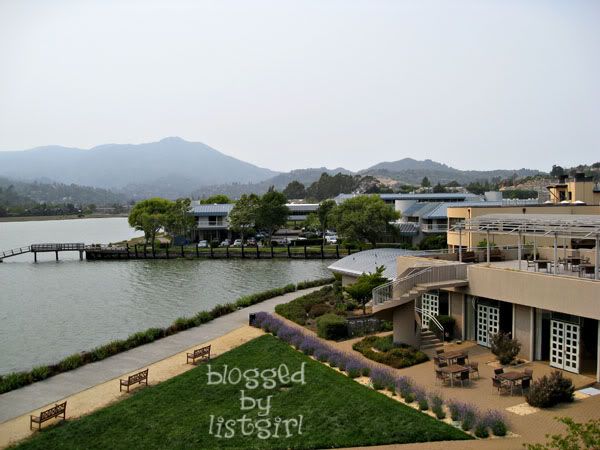 For lunch, I went to a neighboring Japanese restaurant named
Robata Grill & Sushi
for takeout. I got the chicken yakisoba and I didn't choose well. I found the flavors a little weird, not the usual yakisoba. It wasn't the best. After work, we headed to Sausalito for dinner to celebrate our 14th wedding anniversary. We decided to eat at a well-reviewed Indian restaurant on the water in Sausalito called
Gaylord India
. The view was spectacular.... it was a bit foggy, but on a clear day you can see the whole city of San Francisco.
Here we are at the restaurant:
The food was really good there! I had Fish Tikka Masala and Todd had chicken in a tomato butter sauce with spices. We also had two orders of garlic naan bread. Everything was delicious. It was weird though, the whole time we were eating there, there were only a couple of other tables occupied. After dinner, we drove down to the Sausalito marina and looked around. It was a bit hazy because of the fires around Northern CA that week.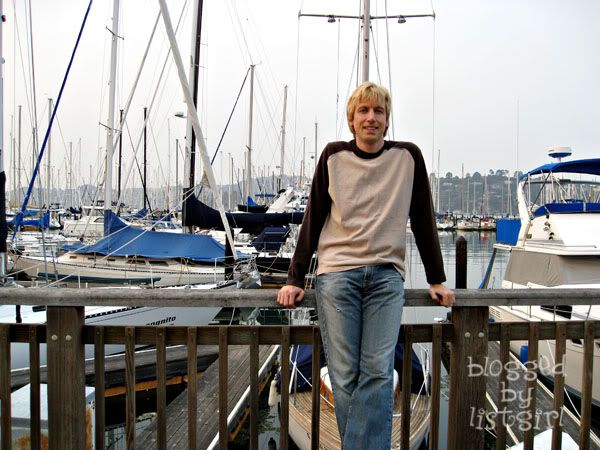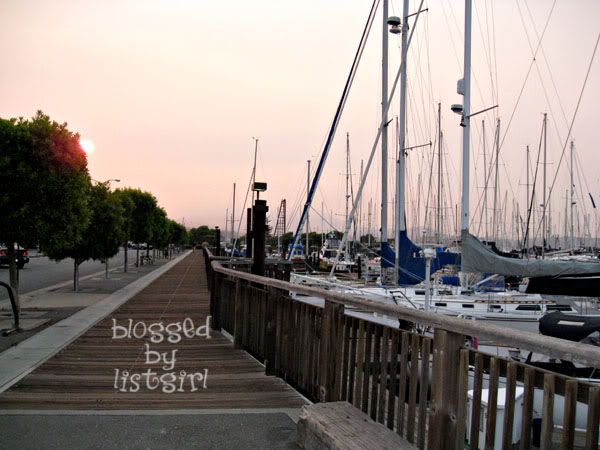 After the marina, we went for a latte and dessert at Northpoint Coffee Company down the street. The latte was good, but the brownie wasn't, so we pitched it. Then we went back to the hotel and watched So You Think You Can Dance, and I read my book "Something Blue" by Emily Giffin, which I ended up finishing while on this trip. On Thursday (6/26), my good friend from high school, Minnie, came to visit me at the hotel, along with her dog Roc. We chatted for over an hour and it was just so much fun to catch up with her. After that, I got a cheeseburger and french fries at In-N-Out Burger for lunch. When Todd got done with class, we went to Piatti Ristorante for dinner, along with Todd's coworker Ping. Piatti was amazing. Their house bread was SO good, with the balsamic vinegrette dip. The crust was crispy but it was soft and warm inside. The oil and balsamic vinegrette dip had garlic, red chili flakes, and cilantro added to it. I had linguini with clams, which was delicious. Todd had pesto pasta and he loved it too. Then for dessert, I got a chocolate cake with whipped cream and ice cream. Todd got some kind of half frozen lemon ice cream tart. Both were awesomely delicious. We loved it and thought it was one of the best dinners we had in the Bay Area that week. Turns out there's also a Piatti in La Jolla, which we've been to, but didn't know was the same Piatti as the one in Mill Valley. Looks like we'll go back to the one in La Jolla again! On Friday (6/27) I went and got lunch at the Strawberry Gourmet Delicatessen. They had the most amazing selection of salads and sandwiches there. I got a turkey sandwich on sourdough roll, with lettuce, tomatoes, pickles, provolone cheese, mayo, and deli mustard. Yum! After Todd's class, we went to have dinner at the
Buckeye Roadhouse
, which Todd had read about online with good reviews from the locals.
I had the Dungeoness Crab Louis Salad: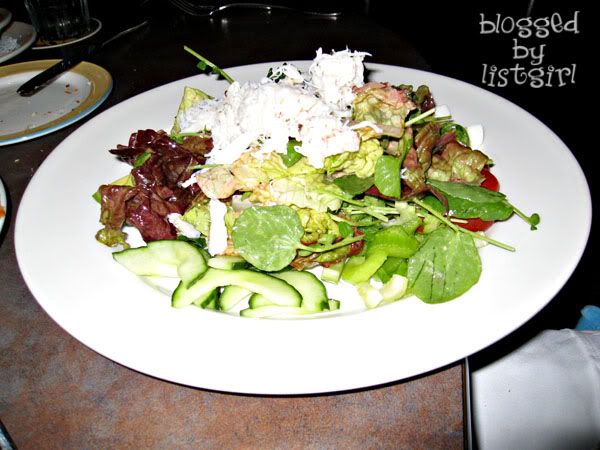 while Todd had a white fish dish with beans:
We also got the garlic fries, which were fantastic! Perfectly seasoned and fried; crispy with garlic and cilantro added. For dessert, we had S'More Pie (apparently a Mill Valley local favorite), and key lime pie.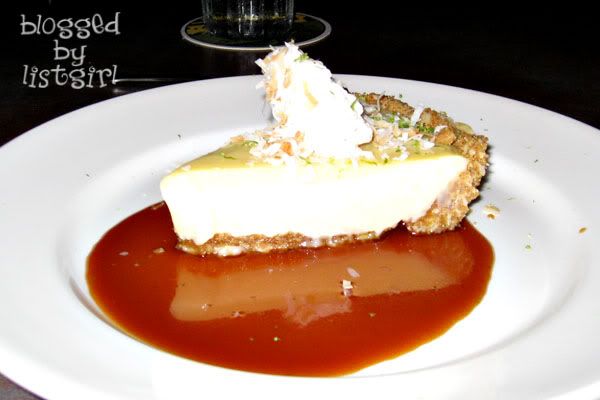 After dinner, we drove up the hill to
Golden Gate Baptist Theological Seminary
, where my dad spent three years getting his masters in theology degree.
On Saturday morning we checked out of the hotel and headed to
Muir Woods
to hike around and see the big redwood trees. We started hiking up this really big hill and noticed that not that many people were on the trail. But it didn't faze us, so we kept going. The views were spectacular.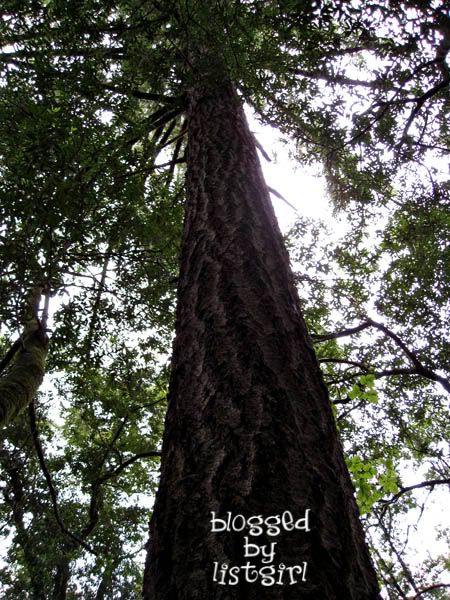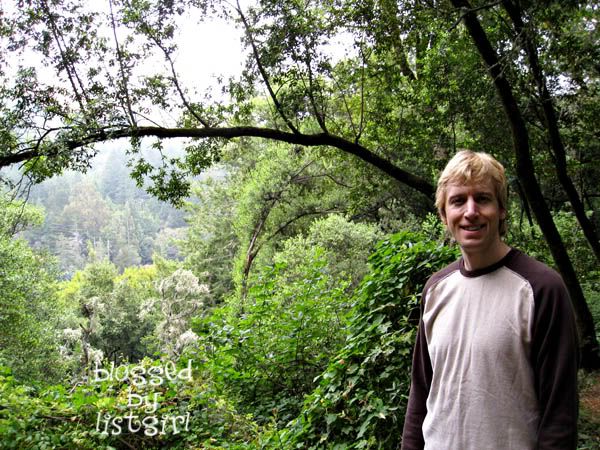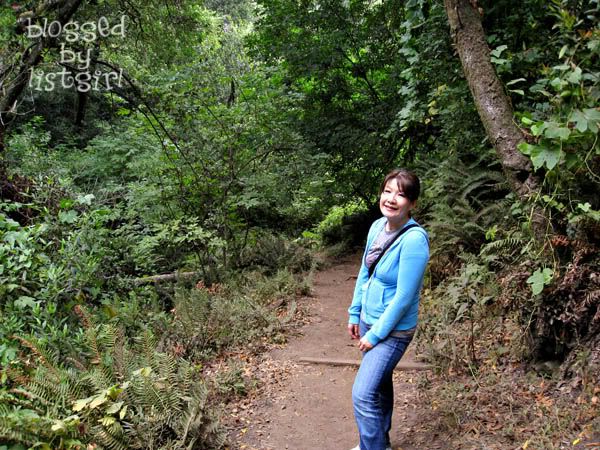 We turned around after about 15 minutes and hiked back down the steep hill. Then we realized that we had totally missed the entrance to the park! By that time we were late for going into San Francisco for lunch, so we just took a couple of photos at the entrance and vowed to go back next time!
We took the Golden Gate Bridge into San Francisco:
Then we parked at Fisherman's Wharf and signed up for a
double decker hop-on hop-off bus tour
. We stopped off at the
Ferry Building
, which has a huge farmer's market outside on Saturdays.
We had so much fun looking at all the gourmet food places inside the building. I ended up eating lunch at a Japanese deli, while Todd had a sandwich from
Lulu Petite
. Then we headed to
Ciao Bella
for some awesome amaretto gelato. Then we went to
Stonehouse Olive Oil
and got their signature Dipping Oil, which is a combination of Roast Garlic Olive Oil, Dark Balsamic Vinegar, herbs and chili flakes. We were going to spend the night with Minnie and Mike in their new house in Redwood City, and we wanted to bring them this as a gift. So we went to
Acme Bread Company
for a loaf of bread to go with the dipping oil. While at the Ferry Building, this was the view of the Bay Bridge:
After the Ferry Building we hopped on the tour again and saw many sights of San Francisco. The City Hall:
TransAmerica Building: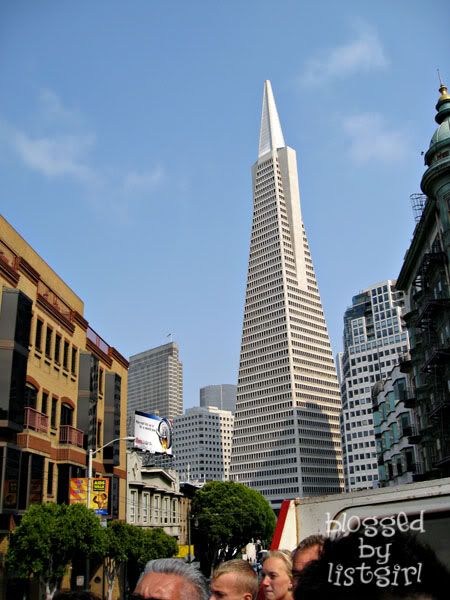 Lombard Street (the crookedest street in the world):
We also saw Chinatown, Little Italy, and other various sights. After the tour, we drove down to Redwood City to Minnie & Mike's house. They were at a wedding, but Minnie had given me the key to their house earlier in the week, so we let ourselves in. They have an incredibly house. Most specifically the large gourmet kitchen. After Minnie and Mike got back from the wedding, the four of us played Beijing Olympics on the Wii and had so much fun. The next day, we all went grocery shopping at a gourmet grocery store near their house. We made a feast of a lunch together!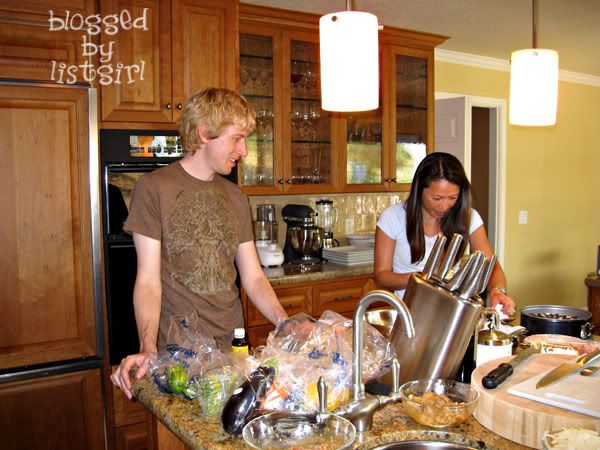 Mike in front of their new
EVO grill
: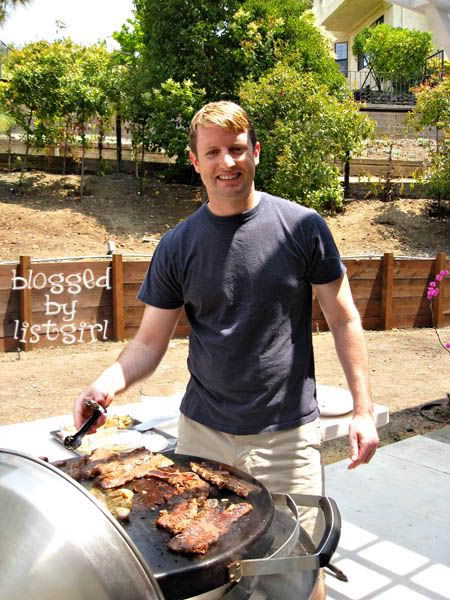 Yummy grilled beef ribs:
Fish & scallop tacos:
We also had pork tenderloins and roasted eggplant panini sandwiches. For dessert, Minnie and Todd made a blueberry coffee cake:
ALL was delicious! I came home from San Francisco weighing the same weight as the most I had ever weighed, back in 1997. I started a diet & exercise regimen immediately that week, and have lost 2 lbs since then. Here's a parting shot of me and Minnie in front of the kitchen: