Last week Todd and I went to lunch together on Monday at the Souplantation, because they have cream of mushroom soup on Mondays and I love it. Afterwards Todd drove home a different way and I wondered why. Well, pretty soon I figured out we were stopping by Best Buy. So I asked him, "What new Wii game came out? Mario Kart?" and he said "How'd you know?!" So we picked up the new Wii Mario Kart game and an extra wheel (it comes with one wheel). Been playin' it ever since! It's so fun, even Todd's dad liked it when he came to visit last week. I dunno if I ever told the story of how I got started on digi-scrapping. I basically "found" the hobby on the internet after searching around. I stumbled onto the
Shabby Princess
site from the About.com site. Shabby Princess gives out the most awesome free kits. So if you're looking to start digi-scrapping I would start there by downloading her freebies. Anyways, from Shabby Princess site I found my way to Gina Cabrera's site,
Digital Design Essentials
. It was there that I fell in love with digital scrapbooking. All her designs were awesome and I just love her use of colors! I immediately purchased one of her CD's and haven't stopped since! She just keeps cranking out the good stuff and I keep buying them, lol! Well, I'm so excited because I'm a guest Creative Team member for DDE for 4 months starting now! It's truly a dream come true for me to CT for Gina Cabrera! Look, I'm on her
site
!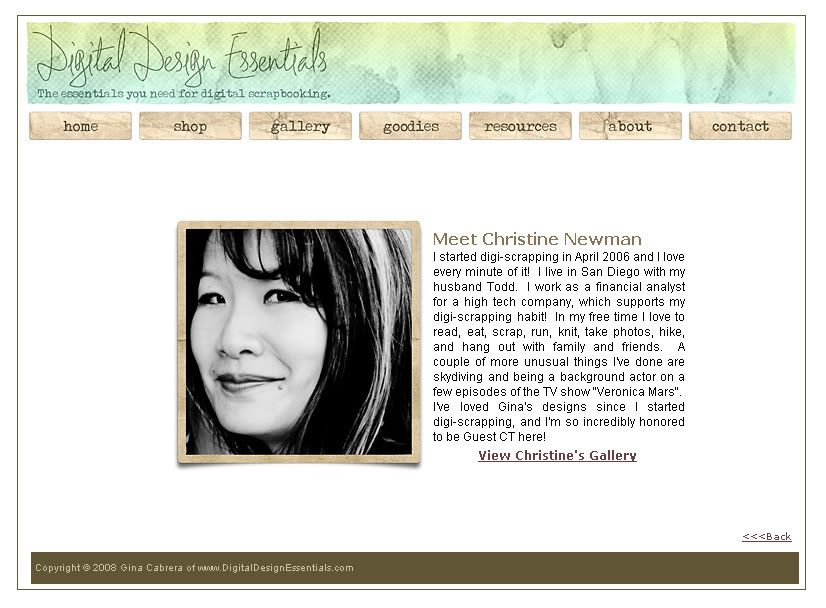 Well, besides work and running, eating pizza, and digi-scrapping, I haven't done much else lately. I'm starting to think I should get a life! If I don't go out and DO more stuff, I won't have pictures to scrap!